Another one of the items I received in my Holiday VoxBox from
Influenter
was a
Montagne Jeunesse
Passion Peel Off Face Masque. Although I don't have problematic skin, I love doing face masks and of course trying new ones out. As I said in my original blog for the VoxBox, I did a search for local retailers and didn't find anyone. Shortly after, I ended up finding some at my local Ulta, so I thought that was cool to be able to go and get some if I liked it. I have tried this and here is my full review.
Before I get into the review and more specifics, let me show you some pictures:
I received the Passion Peel Off Face Masque in Pulped Pomegranate
Fairly simple instructions
Right after I put it on
The consistency was a little "tacky" and was see thru (sheer). It made my face really shiny and it was a light red color which also made my face a little red. At first I was alarmed, but then remembered that the product itself was red.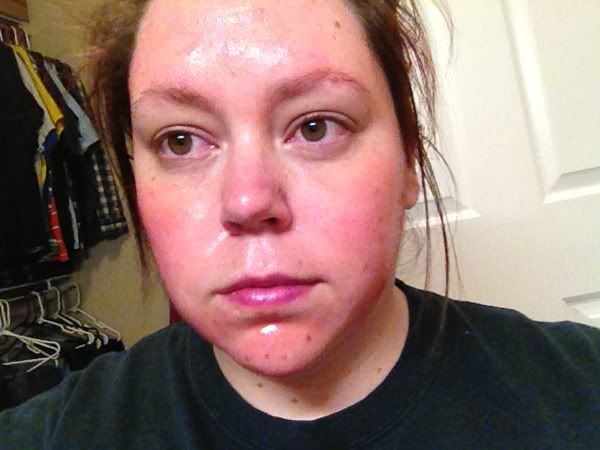 Half way through/I think my face was turning more red.
Towards the end, it started to naturally peel around my mouth.
Peeled off half way.
ALL DONE!
The amount that I received (.17fl oz) was just enough to cover my face, but just barely. I had to stretch it out a little. I didn't put any down my neck or extremely close to my hair line because pulling that stuff out is a pain. My face is naturally red so the added redness made me look like I was sun burnt, but you shouldn't be doing this anywhere other than home or in the privacy of a room so that isn't a large issue.
Montagne Jeunesse beauty treats are free of parabens, vegetarian approved and never tested on animals. So treat yourself today to a masque that will hydrate, nourish and leave your skin cleansed, smooth and glowing.

Packaging (3/5)
:
Not too much to say about the packaging. If I am purchasing a face mask, I would tend to go towards ones in a squeeze tube or even in a tub since I feel that the foil packs are a bit difficult to work with and get product out, specially when you've already applied most of the mask. The instructions were clear on the back of the product but I wish they were a little more detailed. By "cleanse", I wasn't sure if I should have just washed my face, deep cleaned, what have you.
Product (3/5):
I wouldn't imagine my face would feel amazing after one use and that wasn't the case either. I didn't feel or see any difference in my skin after I took the mask off. I am giving this a 3 because I love the concept of "peel off", I think its fun. Yes, I am strange, but it was like pulling glue off your fingers in kindergarten.

Smell/Texture (5/5):
Typically this spot goes to longevity but since that is irrelevant in this case, I changed it to smell/texture since those are both things that can make or break a product. The smell was fabulous. I love Pomegranate and it smelt very fruity. The texture as stated above was a little tacky and gooey but nothing to be drawn back about.
Price (3.5/5):
Granted this is priced at $0.96 (for this particular sample, $1.99 regular), however, I didn't notice or feel much of a difference in my skin after applying this mask. I gave it a 3.5 because it was "fun" but I couldn't see spending any money on something that didn't do anything for my skin. I would love to try the other masks and see how they are.
Overall (3.625/5):
All in all, I wouldn't say this is a bad mask. If you happen to find it at your local store, pick one up. You're not losing a ton of money if it doesn't work out for you. Ulta has these for $1.99 and they have several different "flavours" as they call them. I will most likely pick one or two up to test.
Available at ULTA Beauty, Walgreen's, Claire's, Walmart, Kroger, CVS Pharmacies and other retailers across the US, these masques are available in a variety of succulent flavours, including:
Cucumber Peel Off
Passion Peel Off
Dead Sea Mud
Fruit Smoothie
Strawberry Souffle
Chocolate Mud
And many more!