Foodzie is a little different from your normal monthly box because it's obviously about food. I was a little hesitant to sign up for this box because I am extremely picky when it comes to food, but on the other hand, I wanted to try new thing. I loved this concept and decided to try it out.

Each month, you will find a variety of Tasting Experiences carefully selected by the Foodzie team. Choose one that matches your taste or let us pick one for you.
What I like about this box is that around the 1st of the month, they will email you with a link to that months "taste boxes" and you can choose the box you would like to receive. If you would like more of a surprise, you can ignore the emails and they will send you a random one. This really works out for me since I am fairly picky, if its a month where there's nothing I wouldn't like, I will keep it a surprise. This is my first box and it was picked for me since I signed up too late in the month, but I have to say, its pretty fun!!
Here is what I got in my box:
Lets go through each individual item:
4 Sun Cups - $4.00
Sun Cups are made in Boulder, Colorado, and hit all the sweet spots: they're nut-free, gluten-free, organic, vegetarian, and Kosher (dairy). I just ate the sunflower butter milk chocolate one and it tasted just like a reese's but not as peanut buttery. Pretty good!! Can't wait to try the others.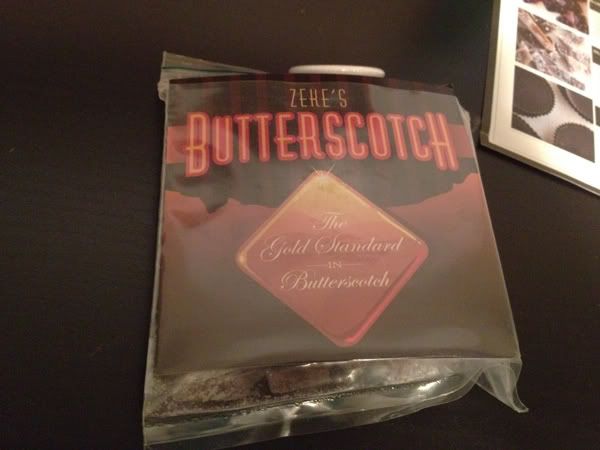 Zeke's Candy Butterscotch - $6.32
Guessing on the price since they only have the packs listed as a 6 or 12 pack and the pack doesn't say the size. I love butterscotch, this stuff is yummy. There is a little thing that comes with it that says "Suck, don't chew" and they really melt in your mouth. Mmm..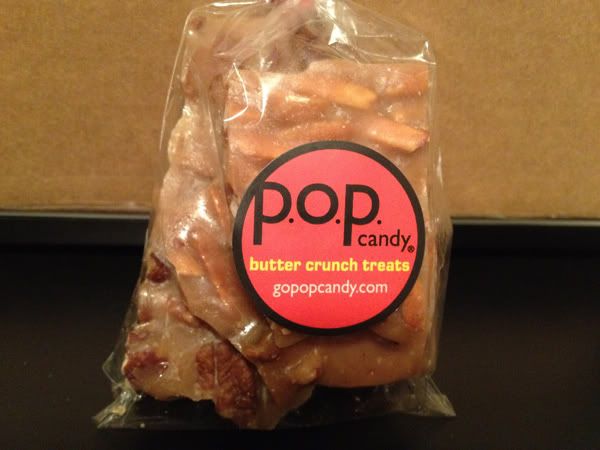 Pop Candy Butter Crunch Treats - $7.00
This is a 4oz bag of "classic trios", which comes with Almond, Pecan and p.o.p mix. I wish it would have came with Pistachio, I would have loved that. I am not too big on butter toffee but I will try it, haven't yet.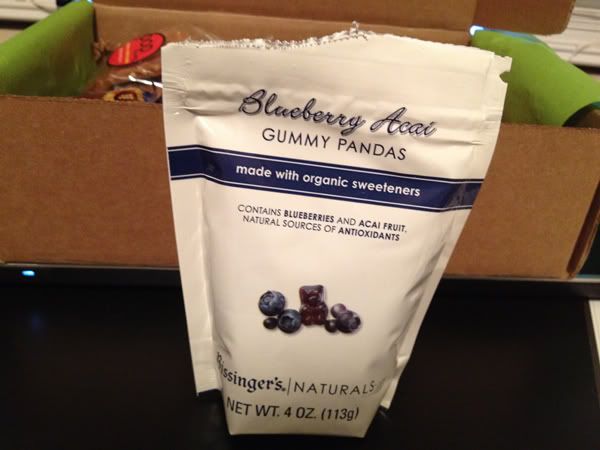 Blueberry Acai Gummy Pandas - $4.75
As you can tell, I have already opened these, they're pretty good! They're just like gummy bears but not as sweet, a little more bitter. Made with organic sweeteners, gluten free and wheat free too if that's a concern for you!
Put Your Money On Honey - $9.95
Four salted caramels made with Northern California wildflower honey enrobed in pure dark chocolate and sprinkled with fleur de sel. I have recently found an interest in salted caramel, I can't wait to try these. But what is it with dark chocolate lately? Tis the season?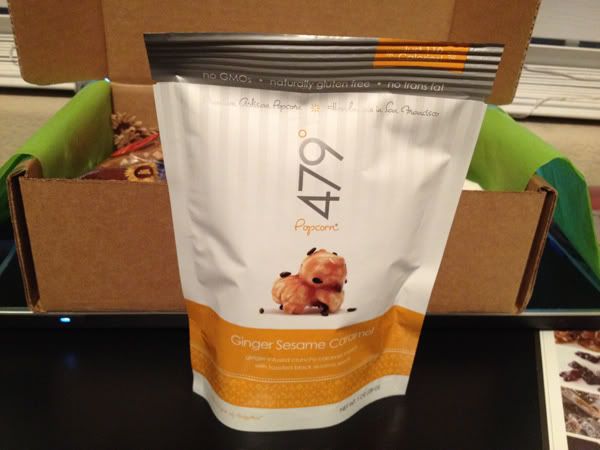 Ginger Sesame Caramel Popcorn - $1.58
Don't like ginger, at all, will leave this one for my husband to try!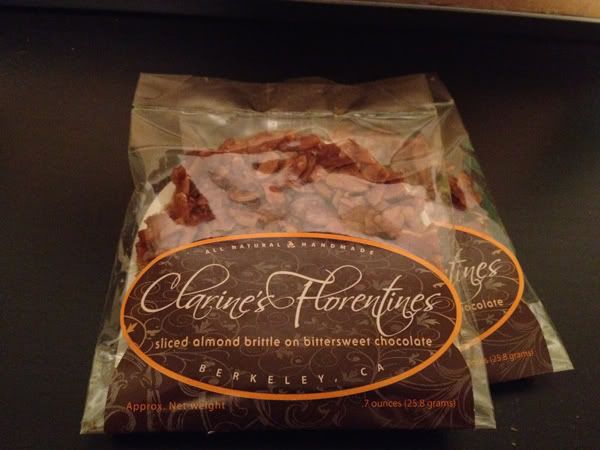 Sliced Almond Brittle on Bittersweet Chocolate - $4.00
This looks rather interesting and its made of Almonds which I love. Can't wait to try it.

The breakdown:
Box:
Foodzie
2011 Stocking Stuffer Favorites
Price:
$29.95
Monetary Value:
$37.60
Keeping subscription?:
Yes.
You're not getting a HUGE value/savings by getting this box but it's really nice to try things. This is my first months and I can't wait to see what is to come in the next months so that I can decide if this is a service I would love to keep or not. I really love the concept!!