If you haven't heard of the influenster website, you NEED to check it out. I found this site really randomly and signed up, not thinking anything of it. I unlocked things they call "badges" and a month later I was getting an email inviting me to participate in their holiday voxbox.

What is an Influenster?

Community of trendsetters invited to share their lifestyles and show their influence to qualify for personalized product shipments, special rewards and exclusive deals from the brands they love. Members love testing the latest products, giving insightful feedback, and spreading the word on their favorite finds!

So to sum it up, you get a box full of goodies absolutely free (you don't even have to pay for shipping) to test out, review and "influence". I am not sure how often they come out with boxes but I do know that there are different boxes and the one you get is based on the badges you unlock. I obviously unlocked beauty so I got items more on the beauty side.
Let's see what's in my box:
7 items, most of them were full size and a few "testers".
Lets go through each individual item: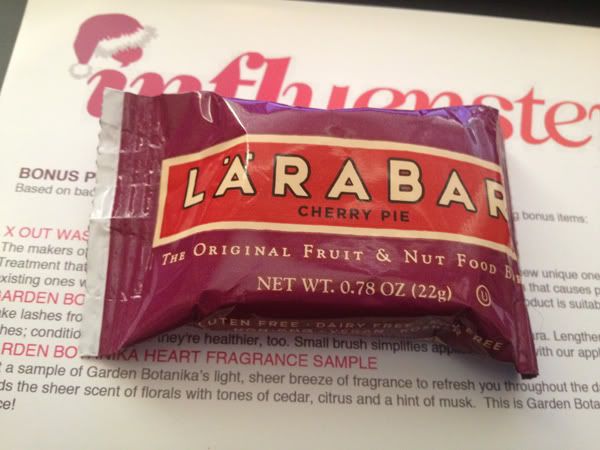 Larabar in Cherry Pie - $0.84
I ate this right away and it was terrible. My husband wanted to try it too so he had half and he took one bite and threw the rest away. It was so bitter and the consistency was gross. I am sure someone loves these but I do not!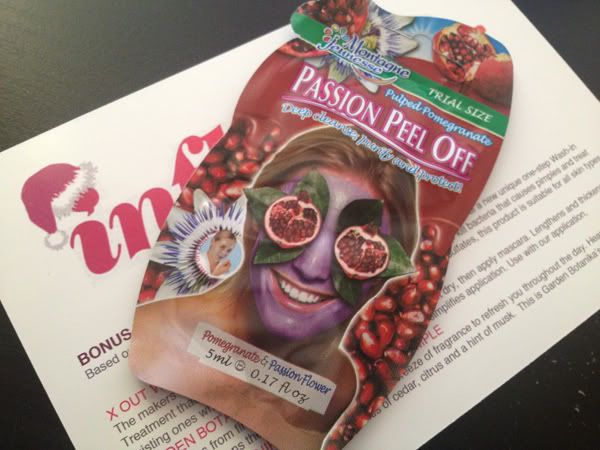 Montagne Jeunesse Passion Peel Off Mask in Pulped Pomegranate - $0.96
I am super excited to try this, I LOVE masks. This is a great size for a one time use. They're vegetarian and animal friendly for anyone out there that is concerned about that but the only problem I find with these is that they're UK based. I did a search for local retailers in my area and there weren't any, so id I wanted to buy these, I would have to buy them online and wait.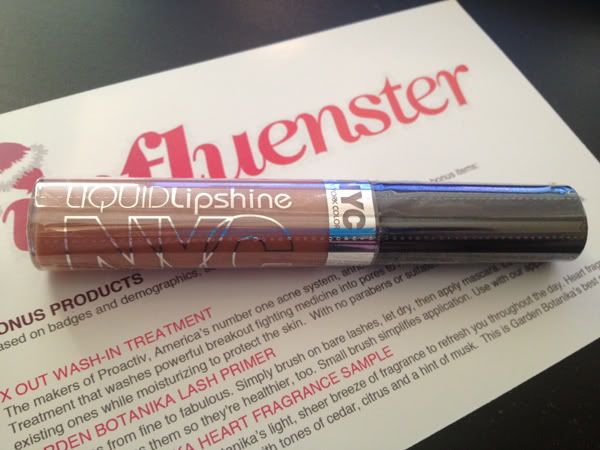 NYC Liquid Lipshine in Nude York City 582 - $2.49
I really can't tell you what it smells like but its

AMAZING

. I just want to eat it. The color is fabulous, right up my alley. I love that it is more sheer than opaque, I can't wait to try this out!

Garden Botankia Lash Primer - $11.00
I am assuming this is full size, the site doesn't say what amount the full size comes with, but this is 7.5g, which is pretty large. I love anything for the lashes, anything that makes them grow, appear longer, fuller, whatever, I will take it. Can't wait to try it!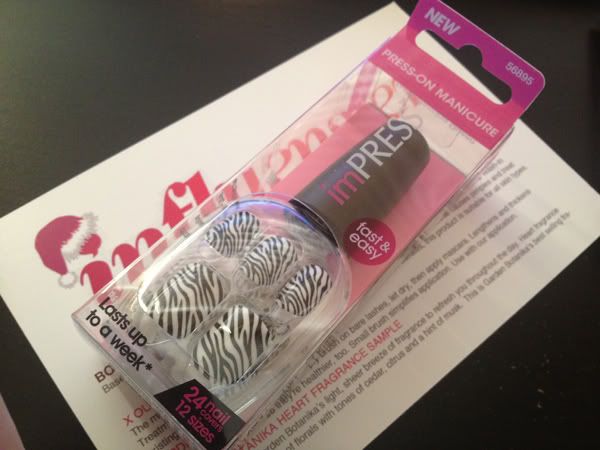 imPRESS Press-On Manicure - $7.99
I have to admit, I am not a fan. Press on nails remind me of something kids do to be like mommy. I will try them since that's what were supposed to do but I don't have high hopes in the least bit.

Mentos Chewing Gum in Fresh Mint - $1.49
Not much to say about this, it's gum. I love gum and I have already gone through about half the container, I am a fan. Mint lasts a while too!

Softsoap Coconut Scrub 2 pack - $1.74
Call me lame but when I saw this, I squealed. I love ANYTHING coconut, put coconut on a piece of paper and I would probably eat it so I was extremely excited to see these. Can't wait to try them!

The breakdown:
Bag:
Influenster
Holiday VoxBox
Price:
$0.00
Monetary Value:
$26.51
Keeping subscription?:
Most definitely
Like I said before, I am not sure how often they come out with these boxes but I would definitely love to keep trying them. There are quite a few items I would love to try. I am not sure if this is the "beauty" box, but I would love to see more "beauty" related items. Maybe a mascara or an eye shadow. Some things in the box weren't necessary (to me).
I think that you should go subscribe and unlock some badges. Now that I have logged back into my account, I see that you can enter some giveaways from these brand, which is also cool! Go subscribe now! :)