I signed up for BirchBox in February of 2011 and I think they have lost a lot of their meaning and what they run for. The "sample" sizes have become smaller and smaller and some are even "O_o" worthy. However, I am afraid to unsubscribe because I know that the moment I do, everyone will get a full palette or something amazing and I will kick myself.

Don't get me wrong, I do find a lot of great things in BB's but sometimes I feel like their samples are lacking because of the amount of people they have subscribed.

But that's not what this post is about, this is for my December 2011 box! Here is what was inside:



Lets go through each individual item: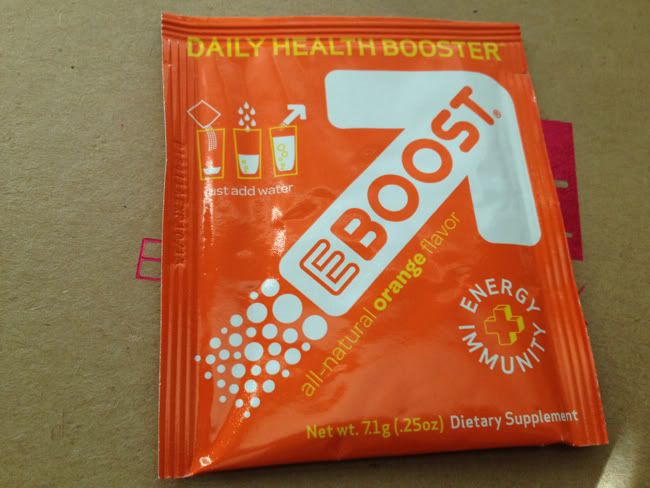 Eboost Daily Health Booster - $1.40

Last I thought, this was a beauty box. Yeah, "health" is a part of beauty but I don't sign up for an orange flavored pack of dust. Not really my thing. I might try it, but will most likely give to my husband.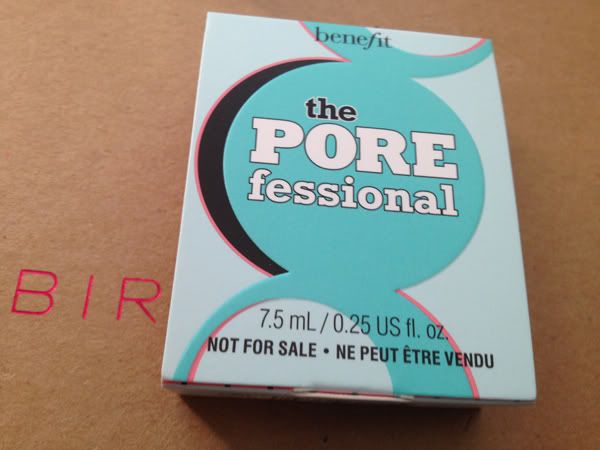 Benefit POREfessional - $9.66
Have this, LOVE this, but since I already have it, I will be keeping it for a giveaway. This stuff is fabulous, really covers up pores. It has a strange consistency but it really works.
Jouer "BirchBox Pink" Lip Gloss - $5.71
I only have experience with Jouer from BB so I don't know much about their product but this lip gloss is not the best, probably not even good. Remember, this is entirely my opinion. First off, this thing is worth $6. There's NOTHING in it! Its .06oz. Second, the color isn't that unique. Third, the brush is terrible. It hardly picks up any product so its rough on my lips and I have to dip it in about 12 times just to get enough on my brush, which also makes the application uneven and funky. Fourth, the texture. I don't know whats wrong with it, maybe too much color but there are little grains of something on my lips, I can feel it when I rub them together. I think the only thing this gloss has going for it (for me) is that its sheer and I can wear it without personally looking like a clown. If you are looking for a hot pink opaque lip gloss, look somewhere else.
ShowStopper Designer Fashion Tape - $0.83
I hate to put BB down but is this a joke? Seriously, if I think my boob is going to fall out of a top, I don't wear it... Or better yet, I don't buy it!
Blinc Eye Liner - $2.29
Can't wait to try this, however, I am terrible at top liner. I got the mascara in a few boxes back so this will be a nice pair!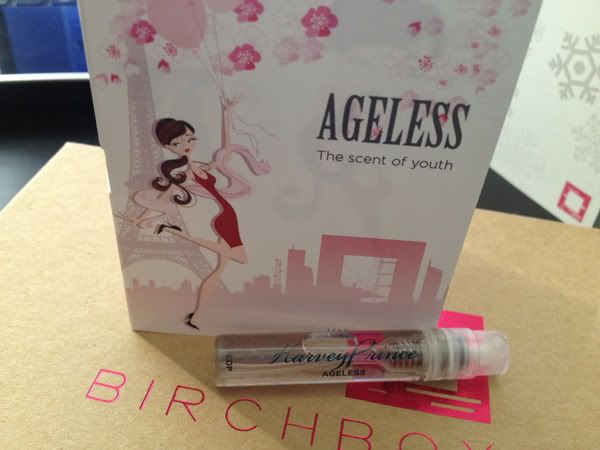 Harvey Prince Ageless Perfume - Not sure how large the sample is
When I first opened it I was a little leery because I watched some videos where people say it smelt really bad. They got another scent however. This smells divine. This is something I would actually wear, however at $55 for 50ml, the price is kind of steep. I can't really describe what it smells like, just a little sweet and clean at the same time, yum! The bottle is an actual thick glass too so that's nice!
The breakdown:
Bag:
BirchBox
December 2011
Price: $10.00
Monetary Value: $19.89 (not including perfume)
Keeping subscription?: Yes, because of my fear of missing out on something awesome.
All in all, this box was ok. Some of the things were "O_o" worthy, as always, but I did find a few things I can use that will make it worth it. I can also add something to my giveaway pile so that is great for you guys!