Cravebox is a new sample box and the December one was their "Beta" one. Although this box isn't all about beauty, it does have some beauty items in it.

Cravebox makes the discovery of great products not only easy and fun but affordable too! For just $10 a month, you'll receive a box of products that have been pre-screened and hand-selected for you to try and enjoy.

This box is put on by "SheSpeaks", I have never used the website so I am not 100% sure what it's about, but I just thought I would throw that out there.
Here is what was inside: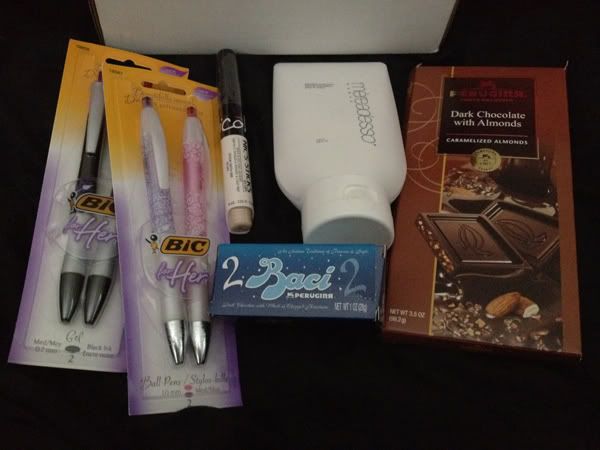 Lets go through each individual item:
Perugina Dark Chocolate & Almond Bar - $2.29
This says it's dark chocolate but it doesn't taste like dark chocolate to me at all. I don't like dark in any way, but I find this very tasty. I love almonds so this is a great bar. Not something I would seek out and buy, but a nice treat for that "craving".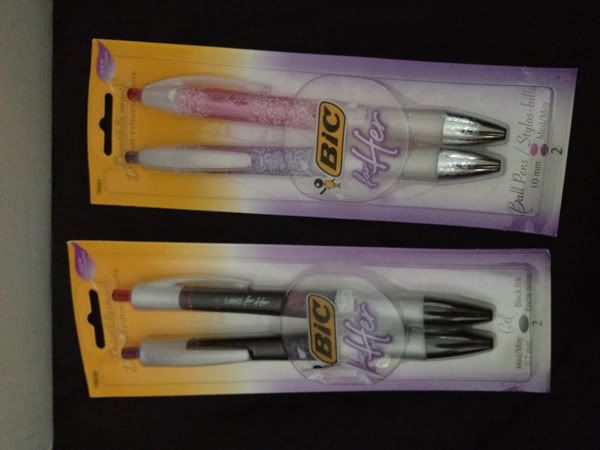 BIC For Her Pens - $12.98
(I actually couldn't find much about these online at all, I am taking a guess on the price as I found some on Amazon.)
I love pens, but I hate gel pens. One set is ball point and the other are gel. Of course the black ones are gel. The ball points are pink and purple. I can still use them and plan to, I just can't stand gel!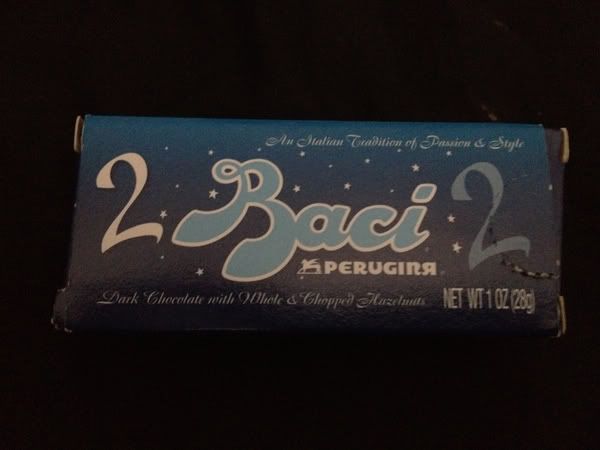 Perugina Baci - $1.25
These were delicious, again, not something I would seek out but a nice little treat!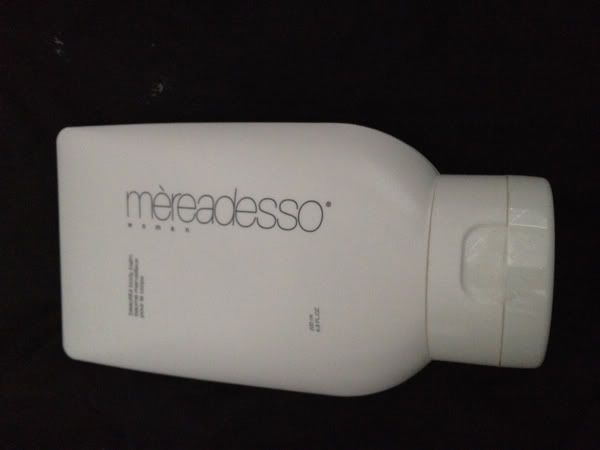 Mereadesso Beautiful Body Balm - $54.00
First off, let me say,

$54.00!??!?!

I definitely didn't expect that when I looked up the price. This is a full size, 200ml which goes for $54 on their website. This stuff is nice, it does moisturize like crazy, I just can't get passed the smell. It smells like a cheap dollar store lotion or maybe even glue. The smell lingers too, which I don't appreciate since it does smell nasty.
Nicole By OPI Nic's Sticks Paint & Go Nail Lacquer - $6.50
(per walmart.com)
I just experienced my first Nicole by OPI product last night and I wasn't really impressed. OPI is my favorite nail polish hands down but I don't like their other branches (Sephora by OPI, Nicole by OPI, etc). This seems like an interesting concept. I got it in the color "Stick With Me" which isn't a color I would use in the slightest but I will try it to see what it's like. You have to "click" it to get the product out and the appeal is that it's small enough to stick in your purse. The applicator doesn't see that great either.

The breakdown:
Box:
Cravebox
December 2011
Price:
$10.00
Monetary Value:
$77.02
Keeping subscription?:
Yes.
This is their first box and like I said, it's not a "beauty" box but I can't wait to see what will come next. I hope that they throw in a lot of surprises and just get better from there. I know that subscriptions were limited for a while but hopefully you will be able to sign up. I could have done without both things of chocolate and maybe not pens, which I thought was a little random, but all in all I enjoyed the box and will be keeping my subscription.