I have been receiving a Birchbox for a year now, wow, how time flies. My first ever BB was in February 2011 and I found it fitting to do a "Year Ago" series to see what I got in my box in the said month, a year ago. I will also tell you what I thought about each product and so on.

Since I don't really have the items anymore in most cases, I am not going to show all the pictures. I will use the pictures from their website and just list what I received.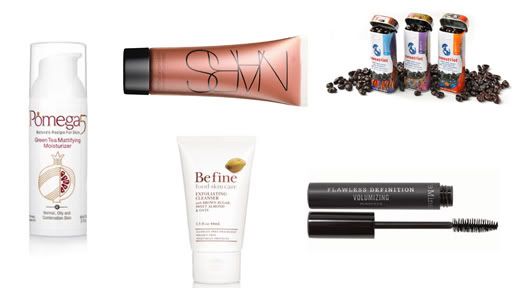 Hi there,

We think you don't have to wait for Valentine's Day to share the love - we heart our members - you deserve treats all year-round!

This month's box is all about indulgence in its many forms, from a deliciously effective exfoliating cleanser to a hydrating moisturizer packed with antioxidants. We've also included an ultra flattering highlighter that will turn you into a dewy goddess and a smudge-proof mascara that adds tons of volume and length. Seeing as how we're chocolate addicts, we couldn't resist adding sweetriot's dark chocolate cocoa nibs, tasty treats with a mission of social responsibility.

Since you're already in the indulgent mindset, why not give in to your beauty impulses? Our website is full of inspiration, from a fun peek into the world of nail art to a guide to finding the pink lipstick for your personality. We have beauty tips from the adorable sisters behind up-and-awesome jewelry line Dannijo, video tutorials on rosy cheeks, concealing undereye circles, and much more.

Dark chocolate kisses,

Hayley, Katia, and the Birchbox team
1.
bareMinerals Flawless Definition Volumizing Mascara - Full Size: $18.00
I did use this, however, I don't recall it being super spectacular. I have a ton of mascaras waiting to be used so I rarely ever rebuy a mascara unless it is to die for.
2.
Befine Exfoliating Cleanser - Full Size: $25.00
I loved this cleanser, I actually repurchased it from Ulta twice before moving onto something else. I see a lot of people getting other things from Befine from time to time and I secretly hope that I get something else soon too!
3.
NARS Orgasm Illuminator - Full Size: $29.00
I still have this and use it once in a while. I use it mainly for a highlighter when I want more of a natural pinky glow than a white or golden glow which most of my highlighters are. I don't think I would ever repurchase it.
4.
Pomega5 Green Tea Mattifying Moisturizer - Full Size: $58.00
I never used this.
5.
sweetriot Dark Chocolate Covered Cacao Nibs - Full Size: $0.00
I am not too big of a fan of dark chocolate so I remember I didn't finish these, I did try them though, I didn't like them much.
So there we have it, that is everything I received in my very first BB. I think the items were pretty good, we got 2 great size make up items which is almost unheard of these days. And for everyone who complains about the food that are in them these days, they did this from the beginning (which is a touch I enjoy)!
What did you get in your first BB?