You may or may not remember my NewBeauty TestTube that I posted about in the middle of January and that I was cancelling it. Well, shortly after, the QVC version became available and I jumped right on it. This one seems to offer more make up than the original TestTube and that is what I was looking for. I am super excited to be getting this version now!! It comes out quarterly like the normal TT as well!!

The NewBeauty TestTube is a collection of some of the hottest and most in-demand products in beauty. In this tube, you'll receive the January issue of NewBeauty magazine, along with a mix of full-sized, travel-sized, and deluxe-sized samples from Mally, tarte, Kate Somerville, philosophy, Calista Tools, and more. And, with this auto-delivery plan, you'll stay on the cutting edge with three more shipments of new top-of-the-line products--one each in April 2012, August 2012, and October 2012.

The NewBeauty TestTube combines luxurious beauty products with extensive product and how-to information. NewBeauty magazine, included in the test tube, provides insider information on trends and hot topics within the beauty world via respected experts from the beauty industry.
Here is what I got in my box: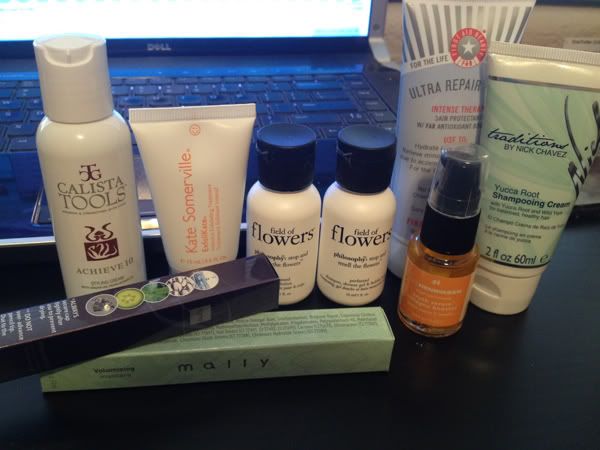 Lets go through each individual item: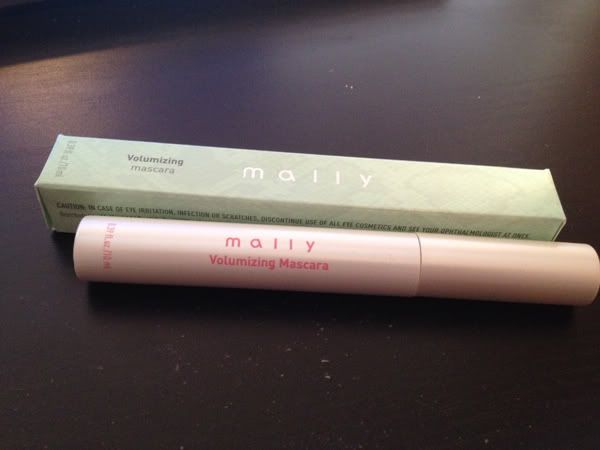 Mally Volumizing Mascara - $20.00
I am a mascara fiend and I have heard great things about Mally so I can't wait to try this. Even with just this mascara, this TestTube is almost already worth it.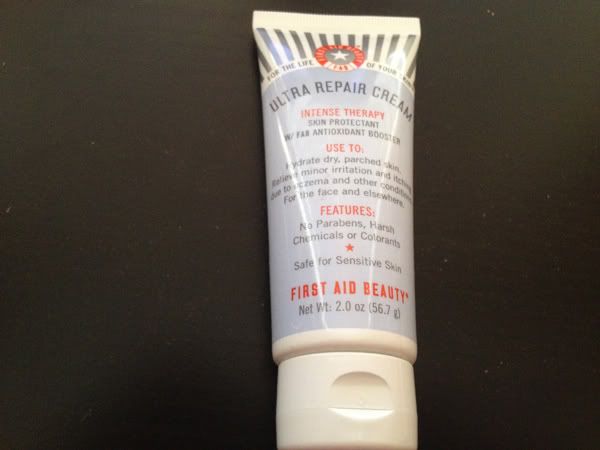 First Aid Beauty Ultra Repair Cream - $12.00
I was my hands A LOT and they're always super dry because of it. I am always on the look out for awesome hand creams so I am excited to try this. It says it hydrates dry, parched skin! It is a little expensive for the price, but if it works miracles, I don't mind spending so much since I haven't really found anything that lasts long enough.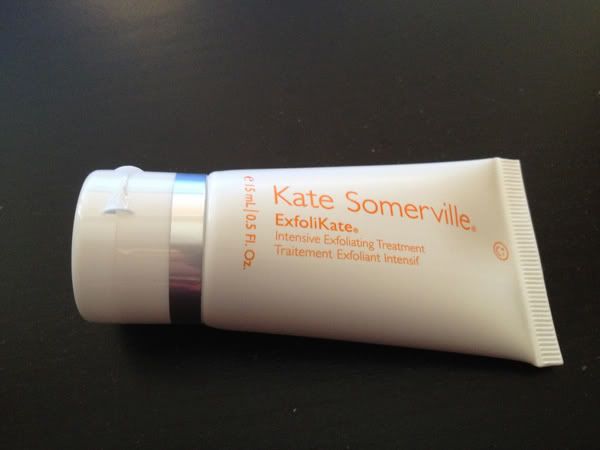 Kate Somerville ExfoliKate - $19.00
This stuff is EXPENSIVE. The little tube I got (.5 Fl. Oz) is $19. I have heard awesome things about this and I have been thinking about purchasing it so getting it was pretty cool. I am not much into skin care but I think my husband might like this, hes a sucker for new face things!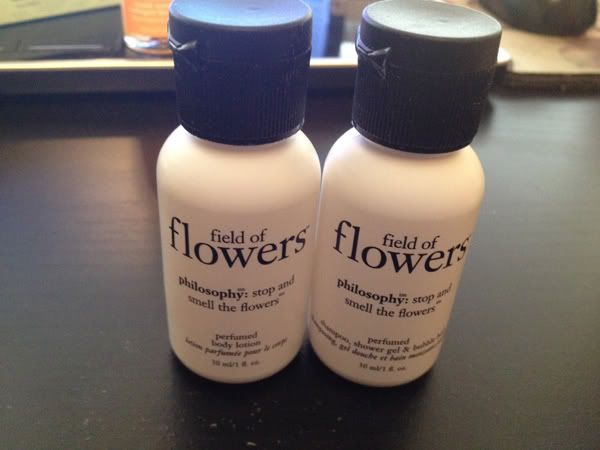 Philosophy Field of Flowers Shower Gel & Body Lotion - $2.50
I have only tried Philosophy twice I believe and was never really impressed. I do love bubble baths though so this is a nice little one time use sample! The body lotion will be kept for the February giveaway! Not too crazy about the smell though.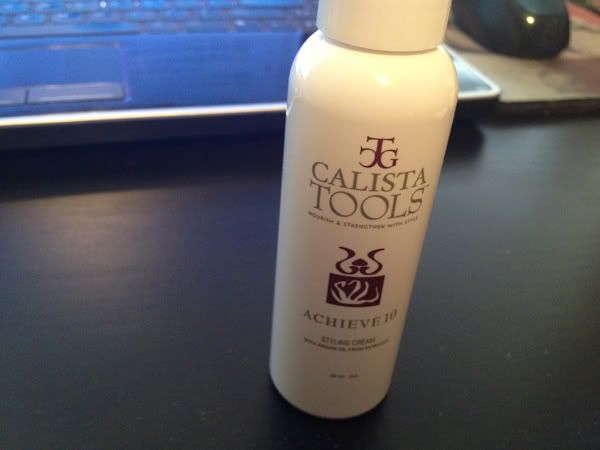 Calista Tools Achieve 10 Styling Cream - $10.50
I don't like putting things in my hair, I don't like the feeling of it so I won't be using this. I am going to keep this for the February giveaway!
Olehenriksen Truth Serum Booster - $24.00
This is supposed to nourish and protect your skin, fighting off environmental aggressors and is loaded with antioxidants. Not really my thing, I might keep it or give it to my mom!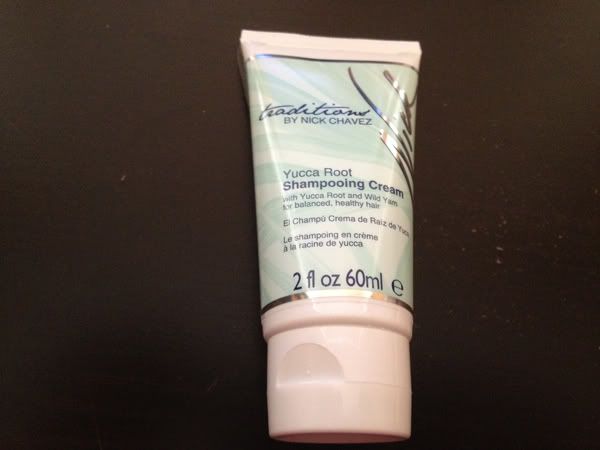 Traditions by Nick Chavez Yucca Root Shampooing Cream - $5.00
I am not one to spend crazy amounts on shampoo/conditioner or buy expensive brands when it comes to my hair, but I can't wait to try this. I have never even heard of it before!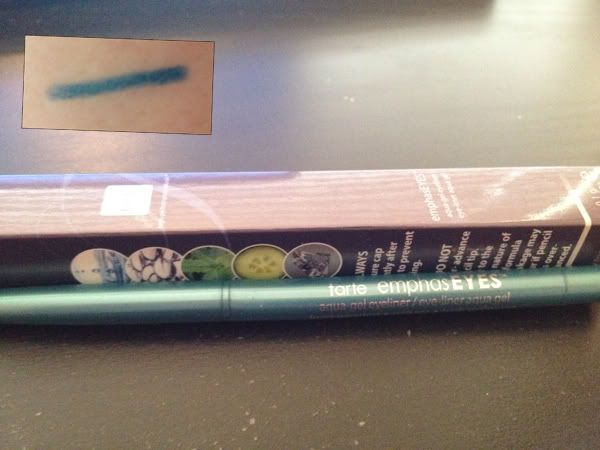 Tarte Aqua-Gel Eye Liner in Teal - $18.00
I have recently become a huge fan of Tarte and this is the most exciting thing in the whole TestTube. The color is gorgeous and I can't wait to test it out!!
The breakdown:
Box:
QVC NewBeauty Test Tube
January-March (First Quarter) 2012
Price:
$29.96 every 3 months (not including shipping)
Monetary Value:
$111.00
Keeping subscription?:
Yes.
I love this one SO much better than the regular TestTube. As of right now, its still available, I would say pick it up! I can't wait to try all these items!