This is my third month of Beauty Army and without trying to sound like a broken record, I am still disappointed in the selection. I don't know how many times I have heard that they're working on putting up more selection but I just don't see it. I did my survey several times and still got the same 9 selections and it makes it hard to choose things when it's mostly skincare. Although I am getting into skincare (and VERY little I might add), I don't want to have just skincare in all these boxes. I don't have problematic skin in anyway but using all sorts of different things on your face every month is not ok for finicky skin. It's very important to find something your skin will handle and stick with it.

Remember, this is the service where you get to choose what you want your samples to be. The samples that are selected for you (which you then get to choose 6 of the 9 selected) are based off your quiz, which I don't feel really reflects your answers too much yet but hopefully in the future. They have also told me that they will have a skip option in the future, which I think will come in handy for the times when you just don't see anything you'd like.

This is also the subscription that has a really nice reusable box!

Here is what I got in my box:



Lets go through each individual item:


BANANAS & BAOBABS Whipped Shea Butter Body Creme - $2.00

This wasn't one of the items that was originally chosen for me, however, I heard so many people talk about it from their box, I emailed them and asked them to switch it for me and they did no questions asked. A+ for customer service. This smells like banana pudding, it smells awesome. I have tried it out (once) and can say it feels moisturizing, it just makes your hands feel greasy for a bit which I don't particularly like. This is a huge sample though considering other body creme/butters I have received were 1/4 this size.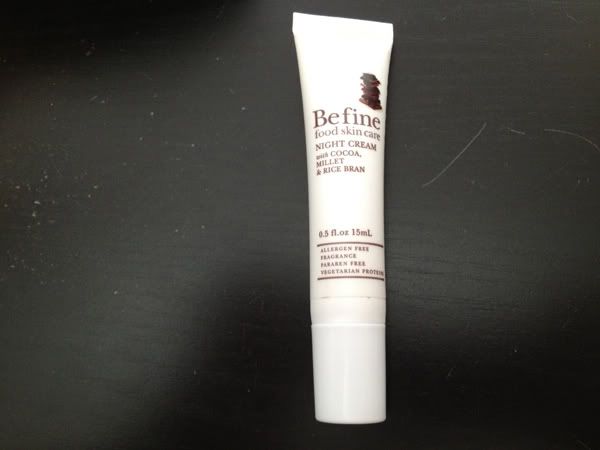 Befine Food Skin Care Night Cream - $8.82
I have been wanting to try this since BB sent this out months and months ago. I could never seem to get it in my box though when I saw this available through here, I was super excited. I have tried this (once) and really like it. It lives up to its name. It is not heavy at all so it's great for night time. I don't typically wear a night cream so I think I just might now. Now I really need to try the lip scrubs they offer!
Mad Skincare Youth Transformation Age Corrective Serum - $7.02
Again, not too much into skincare but this was pretty much all they offered. I mixed this with the befine night cream when I used it and in the morning my face did feel nice. I wouldn't repurchase this but it's nice to have until its up.
EyePrep FX Anti-Age Smoothing Primer - $10.27
I don't really need an eye primer since I have one that I use all the time and it works great for me but I thought I would pick this up since the hype is pretty big around it. It is really expensive so I don't see myself buying a full size of it but I can't wait to try it. It is really thin and more of a cream consistency which I am not used to with a primer.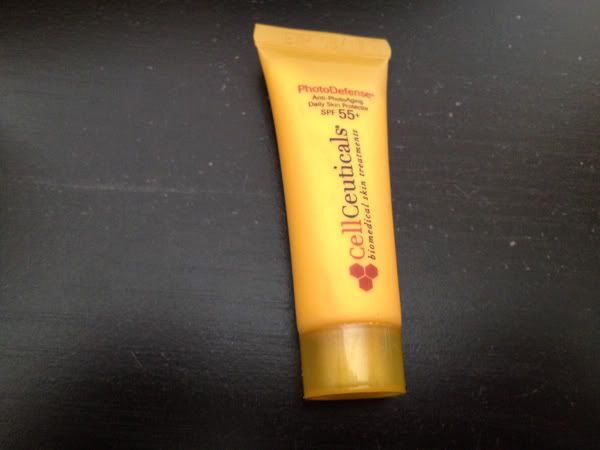 cellCeuticals PhotoDefense Anti-PhotoAging Daily Skin Protector SPF 55+ - $7.43
Although I live in the desert, I don't typically go outside, silly I know but I just work too much and never have time. I am going on vacation in April so I figured this would be a nice to take along with me to make sure I don't get burnt. Being fair skinned, I do get burnt very easily!!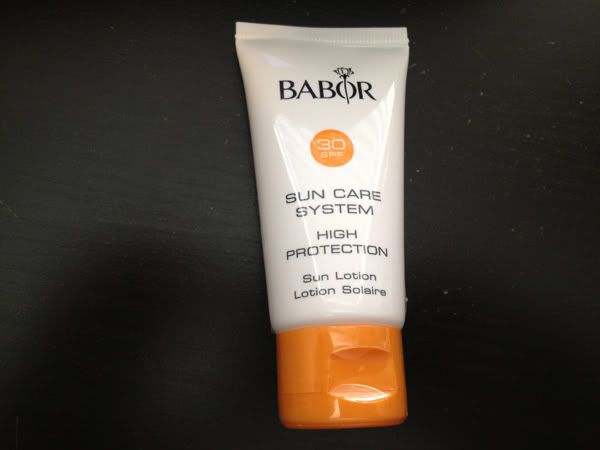 Babor High Protection Sun Lotion SPF 30 - $5.18
Another thing I got for my vacation. I will not burn!!
The breakdown:
Box:
Beauty Army
March 2012
Price:
$12.00 a month
Monetary Value:
$41.34
Keeping subscription?:
Yes!
I think this is the lowest box in monetary value I have ever gotten from them but it is still almost 4 times the amount I paid for it, and I got to pick my items. Please add more items BA!!!