I am SO excited to share my BirchBox this month. Last month I wasn't so happy with my BB but this month, it is totally made up for! So early in the month we had the option to opt in for a limited edition "Teen Vogue" box. Although I am not a teen and don't need to get ready for any proms, I figured there may be more items my "style" this month so I decided to opt in, however, I didn't want to miss out on my regular box so I opened a new account. I upgraded my regular account to a yearly so I figured why not have 2 accounts? This stands of a better chance of getting things you really want!

Here is what was inside: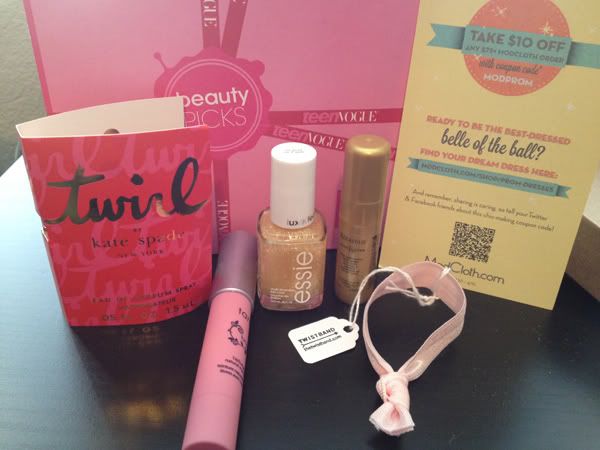 Lets go through each individual item: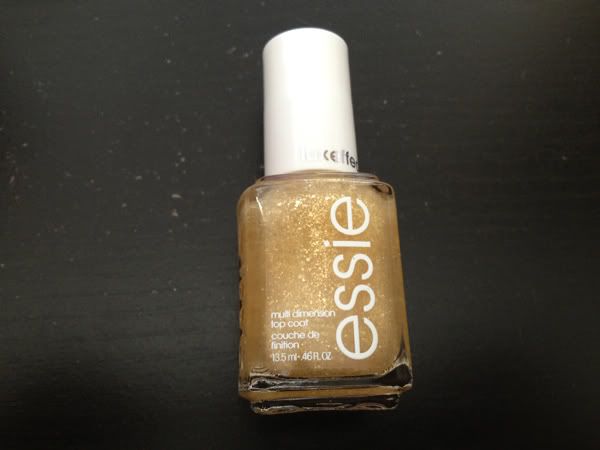 Essie Polish in "As Gold As It Gets" - $8.00

I was REALLY hoping that I didn't get one of the polishes with the extremely chunky glitter and BB did not disappoint. I have only tried Essie once and it just didn't work out for me. I now have a better "nail system" so I am so happy to try this! This is more of a flakey though, I believe.
Tarte LipSurgence in Lucky - $24.00
I was SO excited for this. There were 4 TV boxes and 3 of the 4 had one of these in it and I was really hoping to get one. I am a little upset that it is a Matte finish rather than a lustre or glossy but every time I go to Sephora or Ulta, I ALWAYS swatch these. I think I might just suck it up and buy one now. It's a nice matte color, smells like mint. I use this with some lip gloss and it looks gorgeous.
Twistband Hair Tie - $1.66
I got one of these in... October I think, and I was like O_o. I am still like that. Not really my thing. I think I might put it in the March giveaway, or is that weird?
Kérastase Elixir Ultime - $2.16
I am not too big of a fan of hair oils but I will try it, I have heard nothing but amazing things.
kate spade new york Twirl - $1.18
I also got this is another box and still have not used it, so this will be going to the March giveaway!
The breakdown:
Bag:
BirchBox
March 2012 Teen Vogue Box
Price:
$10.00
Monetary Value:
$37.00
Keeping subscription?:
Yes.
I am so happy that I opted in for this box and even though I have some rough patches with BB, I will be keeping my second account. This is the only subscription I have kept for over a year and it just keeps getting better and better!!