This month I got a different box then what I received last month, I chose "It Girl". I liked the colors better. The point of me signing up for Julep Maven was to pick colors that I would normally never go for and so far, I have stuck pretty true to that. This month was all about the "Oscars" so it included a bronze and a dark blue. It also included a gold glitter, which I wasn't really interested in.

Before I get into the review and more specifics, let me show you some pictures: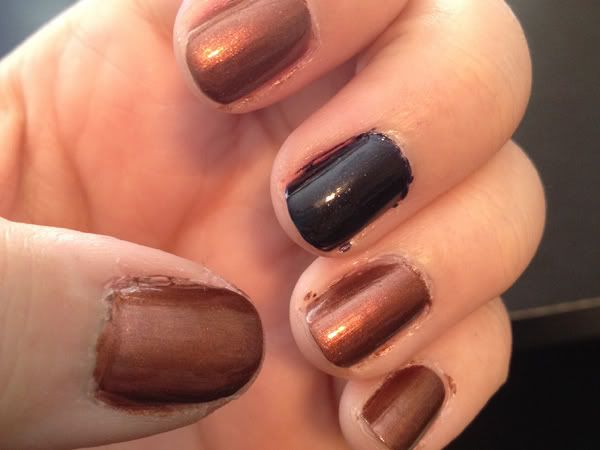 After applying (I used 2 coats each)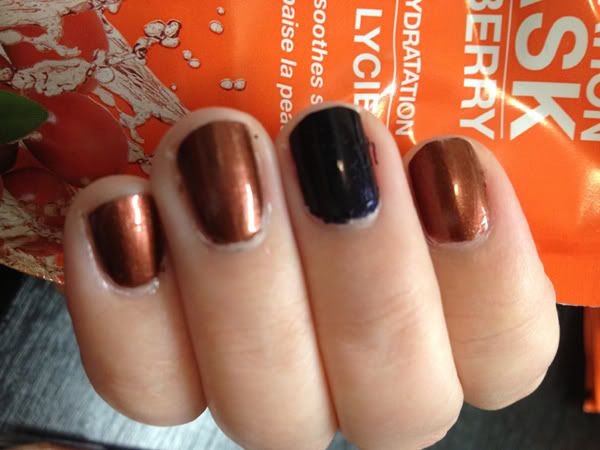 2 days later



7 days later

Professional quality "4-free" nail polish formulation, developed without carcinogens such as formaldehyde or formaldehyde resin, toluene and DBP. Shine on! $1 will be donated to organizations that support women through our Powered by Girlfriends program.
A lot of the review points are going to be the same from my
last review on Julep Maven
because a lot of the key points still stick.
Packaging (3/5)
:
I have 2 gripes with the packaging, hence the 3 instead of a 5. One, would be that the lid doesn't line up with the jar when I tighten the jar (someone did give me a solution for this, the lids come off the actual twisty part, like a butter london polish, yet this is just extra work). This could be from me over tightening it, but I like my polishes to not dry out, specially for $14 a pop. Second, is the super small brush. I feel like I am really spoiled with OPI's brushes because they're super wide, and that is what I prefer. If you like small brushes then it won't be an issue for you of course.
Product (5/5):
No gripes from me this time. I loved both the colors I received. Rachel is a warm rich copper shimmer, Elizabeth is a midnight blue with a hint of shimmer and Oscar is a sparkle like a star with this ultra chic, multi-dimensional gold glitter (not pictured). I am happy to be adding these to my collection. I don't find anything difficult about the formula and they have great opacity.
Longevity (5/5):
These have been on for a week and no chipping what so ever. The only thing I see is at my cuticle where my nail has grown, but that isn't anyone's fault, its nature.
Price (2.5/5):
(I am changing this from a 2 to a 2.5 because I feel like the formula somewhat makes up for the price). I am going to compare these to my 3 favorite brands, which I own a ton of and buy on a regular basis. First, we have
OPI - 0.5 FL oz for $8.50
, then we have
Zoya
- 0.5 FL oz for $8.00
. Next, we have
Butter London
- 0.4 FL oz for $14.00
(which I only usually buy as "rewards" or special treatment). Now, the typical price of a
Julep Maven
polish is $14.00 for 0.27 FL oz
. That is right, a little under half of MOST of these polishes for way more money. Even Butter London, which is AWESOME has a better value. The price is nowhere near "affordable" however, I do feel that they may have some unique colors.
Overall (3.875/5):
I am so happy to have this subscription, I look forward to that email every month telling me that I get to pick my next box (and I hope that one day I will be a lucky winner of the golden box). I have myself on a personal polish no buy since I have so much so it's a nice treat to get nail polish every month.
As of the day I am writing this (March 2nd), the coupon code to get your first month for a penny is still active. Just go on over to
Julep Maven
(affiliated code), take the quiz, pick your box and put "
COLOR2012
" in the discount box and you get a box for $0.01, what's not to love!?