I got so much make up for the month of February, I couldn't wait to dive right in. I planned this look out for a few days, I was so excited to do it. I waited and waited until I had enough time to actually play!

Here we go, this is going to be quite pic heavy!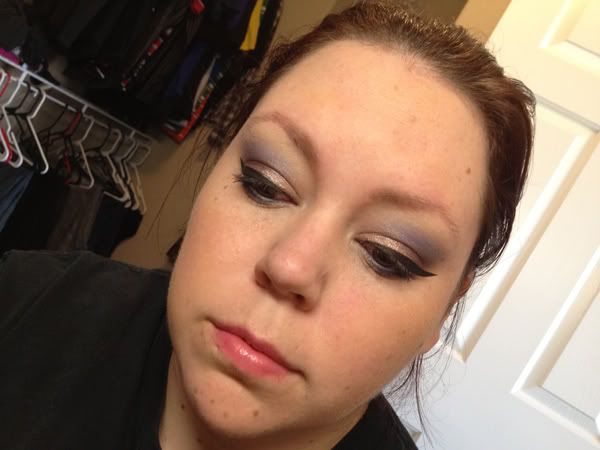 1. I applied my Kat Von D Primer (love this stuff but I am trying to get rid of my primers and I think mine has ran its course).

2. Next I applied Wet N Wild eye shadow in Brulee to my brow bone and just to the top of my crease, I use this as a blending shade.

3. Next I took the light side of the eye shadow pencil I got in my GoGoGirlfriend December Deluxe Box and put that onto my lid, blending it out. This was fairly "glittery", so just a warning, if you ever wanted to purchase any.

4. With a blending brush, I applied Coastal Scents Hot Pot in s14 (purple, from my GGG deluxe box) into my crease.

5. Next I applied my NYX Nude Roll On Eye Shimmer (MyGlam February) to the middle of my lid. This was fairly glittery and had a lot of fall out so I just took my blending brush and blended it out a little so it wasn't so bam.

6. Next I took my Heedless Heart February OTM shadow from Glamour Doll Eyes and added that to the outer half of my lid, blending slightly into the purple.

7. Next I took Inglot Matte 378 (dark brown) with a small smudger brush and concentrated that onto my crease, making it more harsh.

8. I then applied theBalm Luscious Lani Eye Shadow (MyGlam January) into the tear duct and put Inglot 390 (matte skin tone color) over it.

9. I lined my water line with Tarte Aqua-Gel Eye Liner in Teal (QVC NewBeauty TestTube). I found this REALLY hard to get onto my waterline. I had to push fairly hard which isn't good for your water line and it took a long time to get any pay off. I also added the purple and dark brown to my lower lash line.

10. I then used the Mally Mascara (QVC NewBeauty TestTube) to coat my upper and lower lash line and used a Mally Liner (from a regular TestTube) to line my upper waterline.

11. I used my Sarah McNamara Miracle Skin Transformer (NewBeauty TestTube) as a tinted moisturizer and applied my colorescience pro® Pressed Mineral Foundation (Birchbox) on top.

12. Lastly, I applied my Eye Rock Designer Liner (BirchBox February) to my upper lash line and Jouer "BirchBox Pink" Lip Gloss (BirchBox December) to my lips!




Just wanted to add a little tid-bit about the Eye Liners. I got the first one on (right side) super quick and easy, took me one try. The part near my tear duct area wasn't really staying down so I just added a little lash glue and it was fixed. I went to put on the left one and I had more troubles. I usually have problems with my left eye, its like my brain doesn't know how to function on that side. I couldn't get it straight and always ended up with the tear duct part near my nose, however, I never set the actual sticker down until I could tell it was totally lined up.

After I put it on, the little sticker part closest to my outer eye would NOT stay down. I kept putting glue on it and still, nothing. It was so weird. You can see in some of my pictures it was kind of "floating". I really think this is a cool idea, they did feel kind of weird on but for something like a night out, they would be perfect. You just need to get some glue to keep them on. Here is a picture:




After that, I decided to take off the liner and just wear the make up as is. I really loved this look and would totally wear it as an everyday look. I will keep this as a mental note and wear it again soon!!




PS: I originally didn't like the BB Jouer Lip Gloss but I think the color has really grown on me!