It is time for the February giveaway winner, woo!! Just a recap of what is up for grabs:

This is what you will receive:

2 Blum Naturals Exfoliating Towelettes - $0.80

Coastal Scents Brow Tones - $7.95

Eboost Daily Health Booster - $1.40
1 Heart File - $?
myface blingtone eye shadow in bellbottom blues- $20.00
Glamour Doll Eyes OTM Shadow in Heedless Heart - $6.00
S.S. Soap Co Gingerbread Caffeinated Soap - $0.72
Julep Maven Polish in Oscar - $14.00
Endangered Wildlife Organic Lip Balm - $2.99
Shaveworks Cool Fix Targeted Gel Lotion - $?
Philosophy Field of Flowers Body Lotion - $1.25
Calista Tools Achieve 10 Styling Cream - $10.50
2 BIC Mark-it Permanent Markers - $2.12
Total Prize Value: $67.73++
If you're a winner, please email me ASAP. If you do not contact me within 48 hours, a new winner will be announced.
Now, onto the winner. The winner is: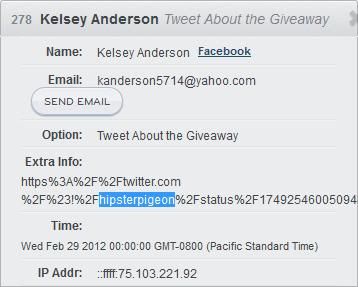 Please email me with your address.
The email address is glamourdolleyes at gmail.com.
Thanks everyone who entered and for your support, as always, there will be another giveaway next month so don't forget to check back! :)