Each month, GDE will release a new color (it may be a shadow, an eye light, or something else extra special) and people who subscribe to this "OTM" service will get the first chance to see it. The new color will be posted on the 15th of each month. For those who have a subscription, your new color will ship on the 10th of the month (or before), so if you're in the US, you can possibly get a sneak peek of the color. After subscriptions are sent out, the rest will be up for sale on the 15th.

The catch is, that only 100 of each color will be made a month. So if there are 56 subscription members, then only 44 of those colors will be sold individually. If you're subscribed each month, you won't have to worry about not being able to get the next color. I am offering a 3 month and a 6 month, just because I don't know how well it will go. I am not offering monthly or yearly because I don't want to get too far ahead of myself.

Subscriptions must be paid for up front. So you're paying up front for 3 or 6 months worth of shadow.

March 2012s color is called "Inspired".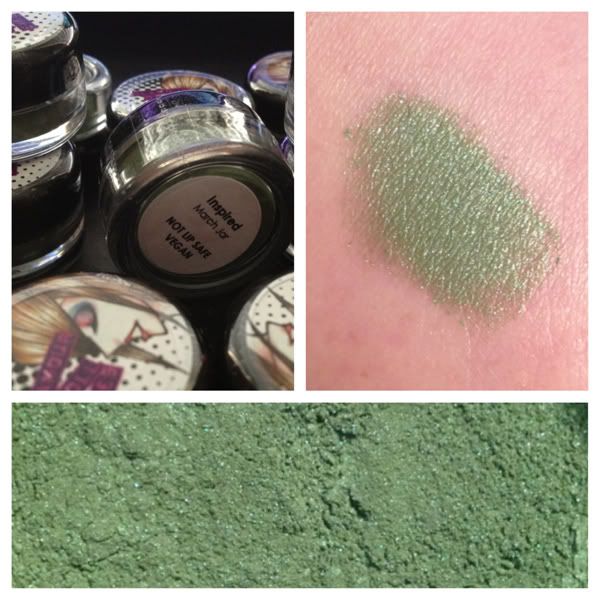 This color is a grassy green with yellow sparkle.

We decided to do something a little different this month (and you may see something similar in coming months). We have decided to team up with another indie company (Kiss My Sass Cosmetics) to bring you a little something we think you would love. They have kindly donated one of their new Lip Tints (this specific color is limited to this OTM only) for you guys to test out.



This lip tint is called "Georgia Kiss". It is a peachy pink color with sparkles.

You can sign up for the subscription here, or just pick up this set for $11.00 ($6 for the shadow, $5 for the lip tint).