Sample Society is a new company to join the sample box craze put on by the Beauty Bar and Allure magazine. I had such high hopes for this company since it is put on by a reputable website AND a magazine. There were only a number of openings in the beginning but I think more have opened up already.

Their first box was in March. I appreciate their sample sizes, they're truly deluxe but at this time, I am not too sure if it is for me. I am going to give it a few more months. I'm just not overly excited about the assortment.

We channeled our obsession with prestige brands into the perfect beauty cocktail: Sample Society.

Catering to tried-and-true beauty devotees, this exclusive program delivers 5 fresh deluxe-sized samples - culled from beauty's finest - to your doorstep each month.
For $15 a month, you'll receive:

-- 5 deluxe-sized samples from beauty brands like Murad, Stila, and Oscar de la Renta fragrance.
-- $15 gift code to redeem on a $50 purchase - when any product from the brands you've sampled is included in your order.
-- Expert beauty advice to accompany your samples from the editors of Allure.
-- A bonus one-year subscription to Allure magazine ($12 value). See below for offer & refund details.

I think it's awesome that they give you a $15 gift code to spend in the store but it's only if you buy a product from that certain box. So essentially you could get that $15 back that you paid for the box but if you didn't want to get a full size of the product then you can't use the code.
Here is what I got in my box:
Lets go through each individual item:
Skyn Iceland Icelandic Relief Eye Pen - $20.00
This one is actually full size, woohoo!! I guess this is supposed to help with under eye circles and the effects of stress. I don't typically have dark circles so I don't know when I will be able to try this but hopefully soon!
Dermalogica Daily Microfoliant - $6.92
This was in some of the BirchBox's for February and I was really upset that I didn't get it so I traded for it and of course, now I have my own. I will put this in the March giveaway. It is a nice exfoliate, I have used my other one before. I probably wouldn't buy a full size but it's nice to have.
Oscar de la Renta Esprit d'Oscar Eau de Parfum Spray - $4.88
This smells terrible, in my opinion. I like sweet and fruity smells and this just isn't for me. I will put this in the March giveaway as well.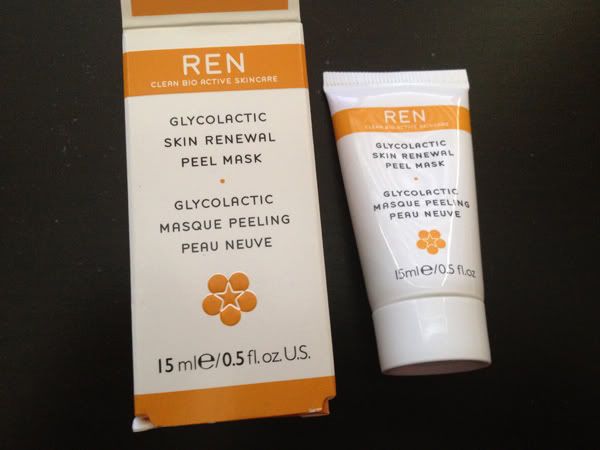 Ren Glycolactic Radiance Renewal Peel Mask - $16.18
I am so excited to try this, I really love masks!
Fekkai Advanced Brilliant Glossing Cream - $9.00
I have heard nothing but great reviews on this. I am excited to try it and have heard its great for frizz!
The breakdown:
Box:
Beauty Bar Sample Society
March 2012
Price:
$15.00 a month
Monetary Value:
$56.98
Keeping subscription?:
Yes.
I LOVE the sample sizes, they're truly deluxe and the monetary value is there. I hope to get to try out some amazing products in the future, I do appreciate this box (and the customer service is AWESOME) so I will give it a few months and see what they come up with!!