It is time for the March giveaway winner, woo!! Just a recap of what is up for grabs:

This is what you will receive: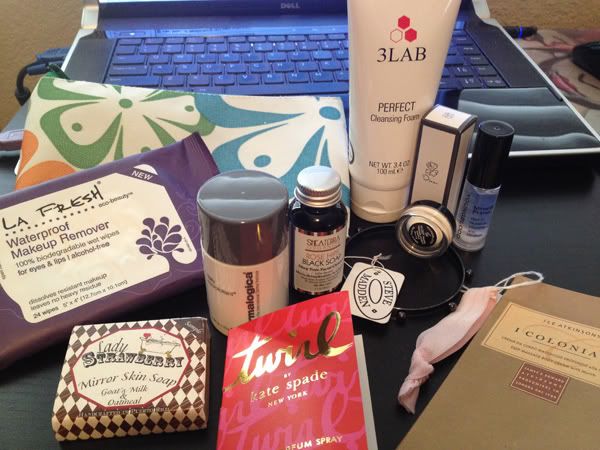 YoungBlood Mineral Primer - $1.75

YoungBlood Hi-Def Transluecent Powder - $2.00

LA Fresh MakeUp Remover - $9.99
Dermalogica Daily Microfoliant - $6.92
Oscar de la Renta Esprit d'Oscar Eau de Parfum Spray - $4.88
I Coloniali Deep Massage Body Cream with Myrrh - $3.40
Glamour Doll Eyes OTM in Inspired with Kiss My Sass Georgia Lip Tint (not pictured) - $11.00
3LAB Perfect Cleansing Foam - $38.63
kate spade new york Twirl - $1.18
Twistband Hair Tie - $1.66
Lady Strawberry Mirror Skin Soap - $??
Shea Terra Rose Hips Black Soap Deep Pore Face Wash and Mask - $4.50
Steve Madden Beaded Bangle - $15.00
Total Prize Value: $100.91++
There were 442 entries this time around, however, the first person I drew won for liking the facebook page and they didn't actually like it. I WILL CHECK! So make sure you follow all the rules! If you're a winner, please email me ASAP. If you do not contact me within 48 hours, a new winner will be announced.
Now, onto the winner. The winner is: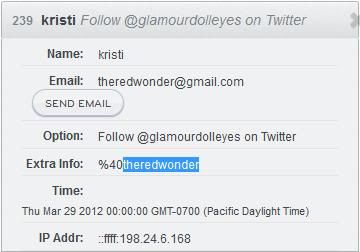 Please email me with your address.
The email address is glamourdolleyes at gmail.com.
Thanks everyone who entered and for your support, as always, there will be another giveaway next month so don't forget to check back! :)