Beauty Army is a new company, started in January of 2012, that allows you to pick your samples and create your own "kit", as they call it. I have known that this was going to start up for at least a month, if not 2. I was super excited to try it. The girl behind the facebook page basically made it sound like it was the coolest thing since sliced bread. They say they're the ONLY company that allows you to choose your own samples (which is false, as BeautyFix allows you to choose) and they said that the samples were going to spectacular.

January 1st came around and of course the site crashed, as most do on a huge reveal and once I finally got on, 3 hours later, the samples weren't that great. I wasn't expecting a whole lot but by what the girl was saying, it was supposed to be AWESOME. I was under the impression that there was going to be a nice balance of hair, make up and skin care but the majority (and I mean like 98% of it, was skin care). I decided to go ahead and give it a chance anyways, they're a new company and I have high hopes that once they become more established, their items will come much better!

The Beauty Army team is made up of enthusiastic and dedicated beauty industry insiders who believe that trying before buying is the future of the beauty world. We give our members the opportunity to discover, learn, try and buy beauty products. It's the smart way to buy beauty products and we're thrilled to offer our service to you.

We believe in providing a premium level of personalization, that's why our service offers two levels of personalization. First, we recommend a selection of beauty products for you based on your answers to a short beauty profile then we allow you to select up to six samples from a larger selection. If you don't want to select your samples, we'll choose the ones that we think you'll like the most. Don't feel like all six samples? You have the option to choose anywhere between 1 and 6 samples!
I don't feel that there was much "personalization" going on as in the survey, I said I only wanted make up and nail. The samples I got back, were again, all skin care.
Here is what I got in my box:
I actually want to talk about the box that it came in first, which I never do.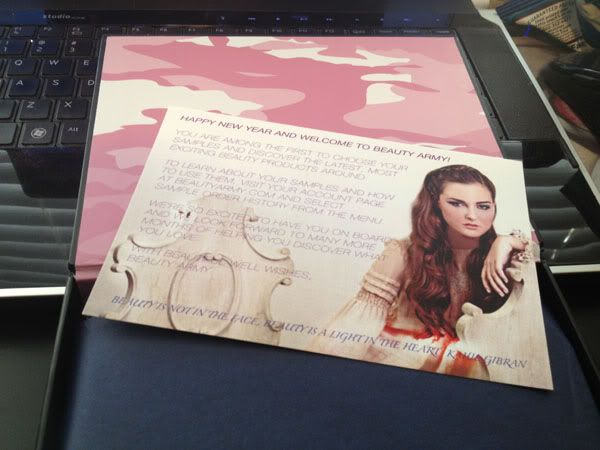 The box is really cool, nice and sturdy so that you can reuse it. The top of the box has lots of things like "eye shadow", "eye liner", "perfect pout", "strong nails", so it's definitely got a "beauty" feel and the inside is pink camo!! Get it, beauty ARMY.
Lets go through each individual item: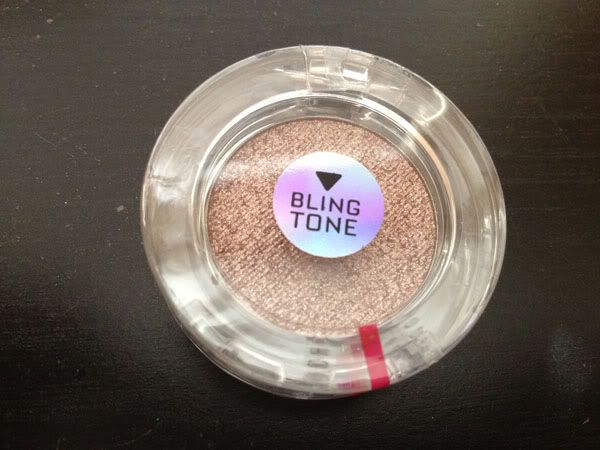 myface blingtone eye shadow in morococo - $20.00
I have never heard of this brand before but it looks promising. The container that the shadow is in is very sturdy. The color feels really thick when you touch it but it's not as thick when swatched and its also very glittery, VERY glittery. Can't wait to try this for an all over the lid color.
Boo-Boo Cover-Up - $4.17
This is the smallest sample I have

EVER

seen. It says its .1oz but I do not believe that. If it is .1oz and this "sample" is worth $4.17, what a rip off!! This says its for the body, so I swatched it on my hand and its far too dark for me, kind of a bummer since its supposed to be personalized for us. It is also extremely peachy. Not too excited for this.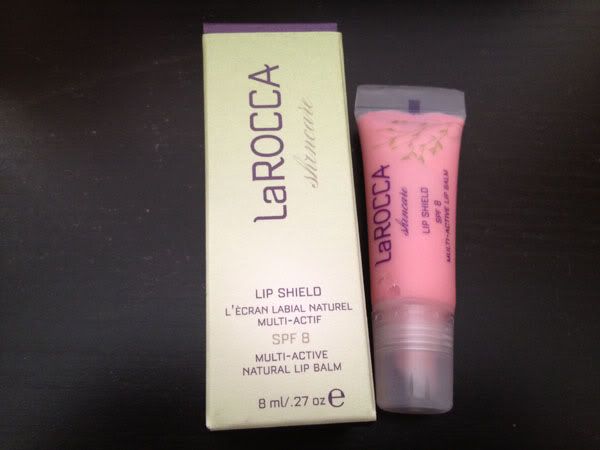 LaROCCA Multi-Active Lip Balm in Proseco - $16.00
This is a full size product and I love the color. Love love love the color! It is so pretty. It is nice and sheer so that it's not like a lipstick and as far as I can tell, its very moisturizing. I am not much of a fan of the taste, tastes familiar but I can't pin point it but I can get passed that.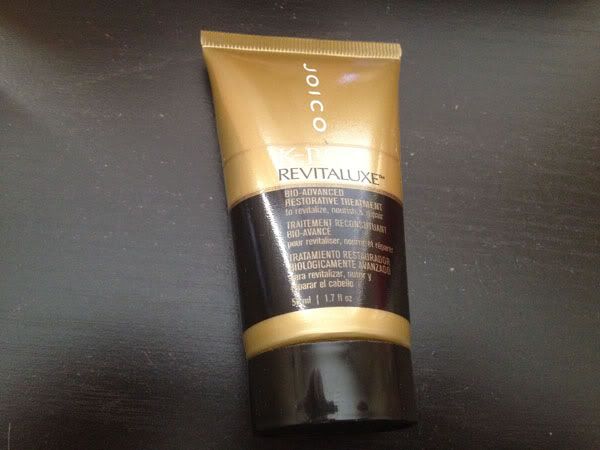 Joico K-PAK Bio- Advanced Restorative Treatment - $4.01
I have used this stuff before and I loved it. Every time I try to grab it at my local Ulta, they're always out, so I was so excited when I saw this to pick!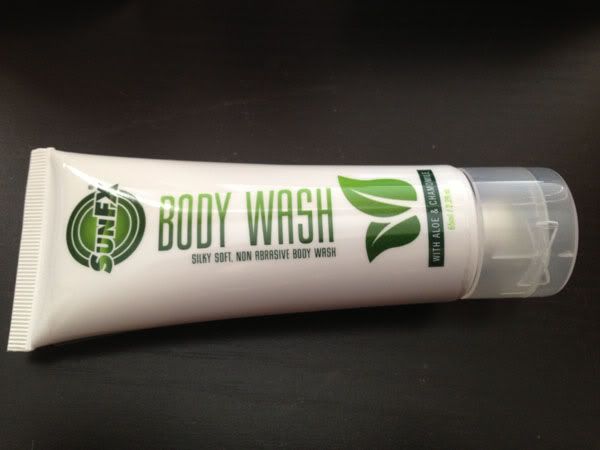 SunFX Body Wash - $3.11
I have NO idea why I picked this. I am at a loss for words. I think maybe I thought all the samples were gonna go fast, so I saw body wash and grabbed it, but this is to maintain your fake tan, which I do not do. Every time I open it up, stuff comes oozing out, it does smell good though. I will try it, I don't know how it will work but we will see.
Chella Anti-Fatigue Eye Mask Kit - $12.00
I can't wait to try this. I already talked about it a little in my NewBeauty TestTube haul, I am so glad to have 2 so that I can share one with you, hopefully it doesn't make my eyebrows fall off or something!
The breakdown:
Box:
Beauty Army
January 2012
Price:
$12.00 a month
Monetary Value:
$59.29
Keeping subscription?:
Yes, I hope they come out with more make up soon!
It's pretty obvious by just the first eye shadow that this box is worth the value. I hope that this company sticks to the demands of their consumers and bring in more awesome items. I can't wait to see what I get to pick from for February's box!