The Nic's Stick Paint & Go Nail Lacquer is something that I received in my December 2011 Cravebox. I wasn't too thrilled at first because I am not a fan of Nicole by OPI and the color wasn't really something that I would purchase. Although OPI is my favorite nail lacquer brand, I feel like their side brands (Nicole, Sephora, etc) aren't that great. One night, I got bored and decided to paint my nails. I have a review box next to my vanity that has all the items I received in that months "boxes" so that when I am doing my make up, I can remember to try them out, so I dug in there and got it out. Here is my review.

Before I get into the review and more specifics, let me show you some pictures: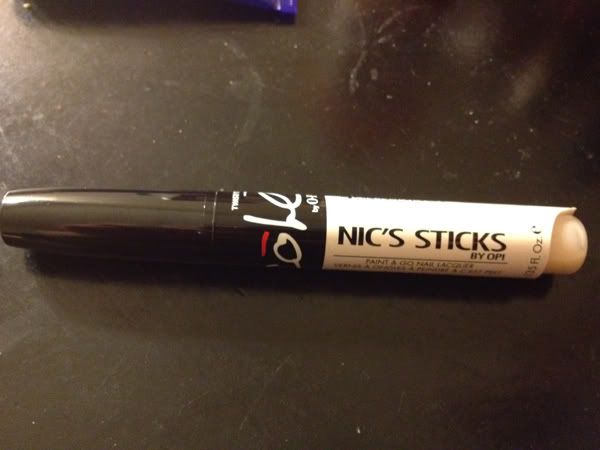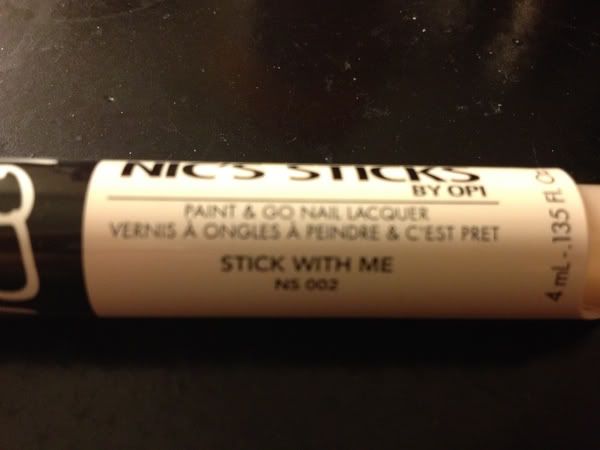 The color I received was "Stick With Me", it isn't much of a "color", not much of a white but not much of a nude. It is more of a creamy nude. I didn't think I would like the color but ended up really loving it.



The "wand" wasn't that great, to be honest, but it wasn't that terrible either. I have seen better. The thing I love the most about OPI is their LARGE brush wands and this goes along with it. However, when I received mine, the bristles were kind of all over the place already.


Just Pump, Paint and Go! This long-wearing, fast drying formula fits in your pocket or purse. Formula does not contain DBP, Toluene or Formaldehyde.

Packaging (3/5)
:
The packaging was a hit and miss for me. I love that it is in a pen form, it's easy to store and easy to carry with you for touch ups. I loved that it has a pump type applicator on it, I thought that was pretty unique. The two things I didn't like about the packaging itself was that the bristles to the brush were kind of wonky and that you can't tell how much polish you have in there.
Product (3.5/5):
The polish itself was very liquidy, not like your normal nail polish. When you clicked to get the polish it, it came out quick. The first couple times I did it, it came out so quick I have to pump again because it would land up on something other than my nails. The color itself was fairly sheer, it took about 3 coats to make it "opaque". Because the brush will also collect dried up polish from your last go around, it will somewhat streak, but once it was dried, I couldn't see much of any streaking.

Longevity (4/5):
To be honest, I think a nail polish only lasts as good as your top/base coat is. I rarely have problems with chipping because I do use a top coat that I love and works wonders. I only wear the same painted nails for 5-7 days straight before I paint them again but didn't experience any chipping. If you used this without a top coat, I could see it chipping because of how thin the product is.
Price (2/5):
I wouldn't say that the price is too high, but I wouldn't say that it's affordable either. The price is $6.50 for .135fl oz. A normal OPI Polish is $8.50 for .5fl oz, which is saying this pen should be about $2.30. With the $6.50 price tag, a normal OPI polish is a better value.
Overall (3.125/5):
I appreciate the quickness and convienece of these. I would pick up a color or 2 for traveling to make life easier and less packing. Application is simple and if you like simple, I would say pick them up. These would be great for little girls too who want to paint their nails like mom!!
You can get these on
Amazon
for $4.99 or $6.50 at walmart!