Since December is coming to an end (when I am writing this, however, it will already be over when this is posted), I figured it was time to do a look with all the items I received in my MyGlam bag. One of the things that I love about MyGlam is that the entire bag can be used for one easy look. I hope that the main focus for the rest of the bags will be this as well, if not, it was fun while it lasted.

I did use a few other eye shadows but from the Naked palette since only one eye shadow on the eye doesn't really work for me.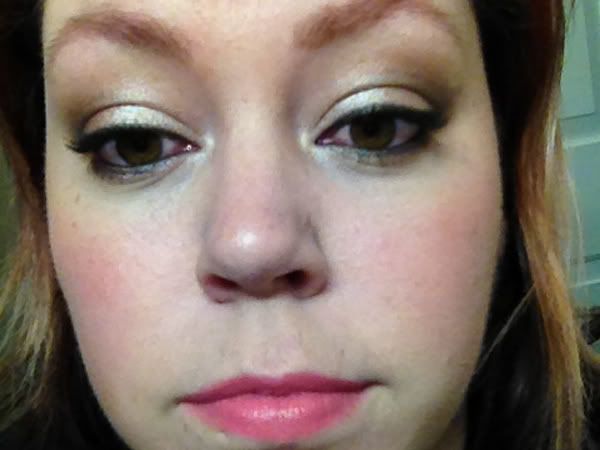 Lets recap what was in the December MyGlam Bag.

Mini Urban Decay Primer Potion Original - $6.66

Full Size NYX Soft Matte Lip Cream in Milan - $6.00

Mai Couture Rejuvenate Oil Blotting Papier in Lavender - $13.00

Full Size Urban Decay Eye Shadow in Sin - $17.00

Tarte Lights Camera Lashes Mascara - $7.92
I applied the Urban Decay Primer Potion in Regular to my lids, up to my brow and underneath.
I applied a little bit of Glamour Doll Eyes Foil Me to the lid and blended it out.
I took Sin (this shadow came with the bag but since I already had it in the Naked palette, I gave it away, so I used the palette) and added that all over my lid and into my high crease.
I took Darkhorse (also in the Naked palette) and added it to my crease to darken it up a little. I also added this to my lower lash line.
I used Virgin (also in the naked palette) to highlight the highest part of my brow bone and inner corner.
I then put some Sin and under the lash line to connect Darkhorse and Virgin.
I used Creep (also from the naked palette) to line my upper lash line and also used it to line my waterline.

I curled my lashes and used my Tarte Lights Camera Lashes mascara.
After I did my face, I added the Mai Couture blush sample in Sunset Blvd. I originally got the blotting sheets but sent them to a friend so I didn't use those.
I then added some of the NYX Soft Matte Lip Cream in Milan to my lips and voila!
All in all, I really enjoyed this bag. The value and the products were awesome. I look forward to getting January's bag, which from the previews looks like it might be all "natural". I would recommend this company to anyone who can get their hands on it. I know its been sold out for a while.

Hope you enjoyed!