The Chella Anti-Fatigue Eye Mask Kit was one thing I was really excited about from my January Beauty Army Box. I don't typically have bags under my eyes or have any problems with swelling or discoloration but I still love to do masks and things like that, just for fun.

Let me show you some pictures of the product and images of me doing it: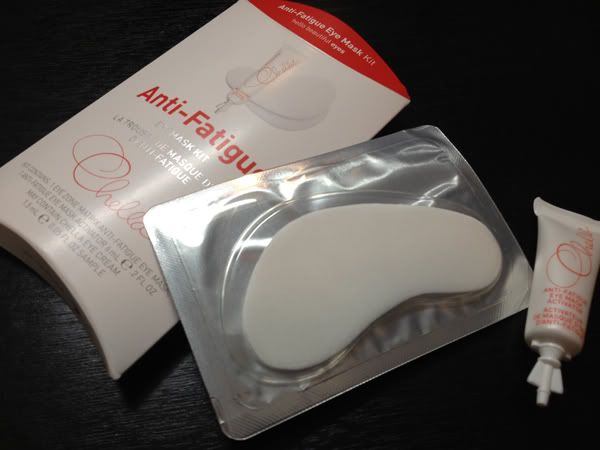 The directions were very easy, take off foil cover, put stuff all over pads. Simple yeah?



After I put the solution or whatever it's called on there. The pads turned from a pad type material into a slimy second skin, as they called it.



Before the "treatment".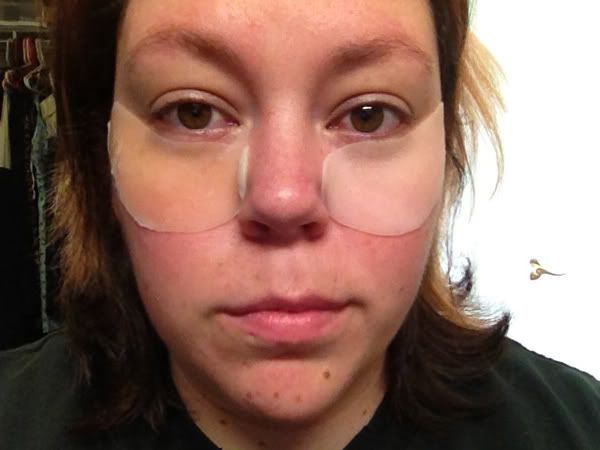 During the "treatment".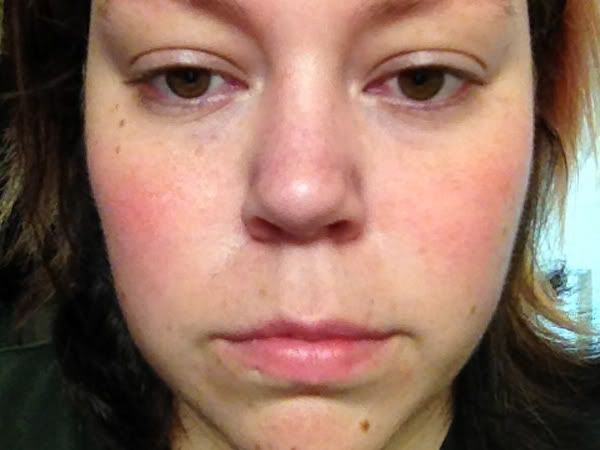 After the "treatment".




I am not sure what the discoloration is between the 2 pads, I think maybe because one pad got more saturated than the other, I am not sure really.

Hello bright eyes. Give us your tired, dark-circled, sleepy eyes yearning to look like they once did. This collagen-matrix equals a good nights worth of pseudo-sleep. Activate this skin-identical collagen to lift, firm and smooth - right now. Collagen elevates and un-lines the entire eye contour while our special activator formula energizes, de-puffs, and un-circles for light, bright eyes. Ergothionine amino acid reanimates cells, supercharging clarity.
Some more specks:
Anti-irritant effect: Extraordinary soothing and cooling. Quickly diminishes skin redness and reduces swollen skin areas. The mask is easy to remove - no cleansing required, thus gentle to skin. Reduces skin redness by 27.5%.
Hydrating effect: Soluble collagen molecules reinforce moisture binding capacity creating smoother skin and reducing fine lines. Increases the skin's moisture level by 59%.
Helps Stimulate collagen synthesis: Skin identical collagen peptides penetrate to help plump the skin to imporve the youthful appearance of the under eye area. After just 20 minutes, the appearance of fine lines and wrinkle depth around the eyes is reduced by 15%.
Now that I am reading all about this mask, I see this:
In just 20 minutes, once a week, for four weeks, see a reduction of under-eye puffiness, fine lines and dehydration.
So
in order to see a full on difference, you should use this for four weeks, which only 1 kit was provided.
Packaging (5/5)
:
Simple, nothing special about it. The directions were on the box and were super easy to follow
Product (3/5):
I am giving this a 3 because it's not really their fault that it didn't work me. I just don't have undereye circles or anything like that. I did enjoy the feeling it gave me, it was kind of tingly and I could feel that it would work if I did have undereyes. I could see it working out great if I did have undereyes, it sure did wake up my skin. The feeling of the product was kind of weird, but in a good way I suppose.
Application (5/5):
This was very easy. The directions were on the back. It wasn't messy or a hassle.
Price (3/5):
I am on the fence about this. Now, buying it out right is $12 for one kit of $45 for 4 kits. That seems like a lot but if you were to get something similar at spa, it would probably be triple that. So the price is ok, but not fabulous.
Overall (4/5):
I am a little on the fence about this. I am not so sure I would buy it, just because it seems pretty pricey to me, for what it didn't do. If you have bags, I could definitely see it working. Or even if you're having a little girls spa night, these would be great to do!
You can get this at
Chella
, 1 for $12 or 4 for $45 or
Beauty Army
has them as well. Or you can wait til the January giveaway, I have a kit to giveaway!)