Just a warning: This will most likely be a huge rant.




Ok, so on January 7th someone posted on Facebook that kgbdeals was having a deal for bloom.com that if you purchased their voucher for $25, you get $50 to spend on that website. They also had mentioned that they had the new OPI Nicki Minaj Collection, which I have been drooling over since I saw pictures of it in November. I jumped on kgbdeals as fast as I could and spent the $25 for the gift voucher. The next day, I went to bloom and ordered the 6 Nicki Minaj colors. I got an email that the order had shipped on the 11th and when I checked the UPS tracking number, it said it would arrive Tuesday, January 17th.

Now this is a UPS fail, NOT blooms fault obviously: Tuesday came around, I woke up and checked the tracking number like I always do. It said out for delivery, yay. My UPS man usually doesn't come until about 6pm, sometimes even 8pm. 7:30 rolled around and I was getting worried. I checked the tracking number and it still said out for delivery, so I thought maybe he was just a little behind. 9pm came around, still nothing, so I checked the tracking number and it said rescheduled for Wednesday. I was a little annoyed of course since I had been waiting for almost a week to get these.

So Wednesday came around, I checked the tracking number and it said out for delivery. I wait and wait and wait, and 8pm comes around, nothing. So I called and the lady said it was out for delivery, that's all we can tell you. 9pm comes around, nothing, so I checked it again and it said rescheduled for Thursday. Now I was very annoyed. UPS is supposed to be known for the tracking and getting items there on time. So I called and of course they were closed.

Thursday came around and again, it was out for delivery. I called UPS first thing in the morning and the guy told me it was out for delivery yadda yadda and it should be there today. I informed him that it said that on Tuesday AND Wednesday and he told me there was nothing he could do for me. I kept pressing the issue and he finally got me in contact with my local sorting facility. They called me and told me that they have my package and it will be delivered that afternoon, by 1:45. 3pm comes around, no package. I pick up the phone to call UPS and right as I do, the door bell rings.

Now this is the part that makes me mad about bloom: My husband answers the door, grabs my package and comes in and goes "WHOA", and I am like "What?" and he jiggles the package and you can hear nail polish in there. I jump up, grab the box, open it up, and this is what I see: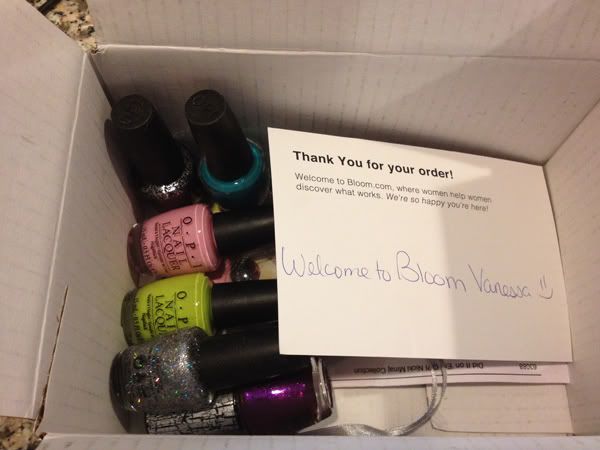 Not a STITCH of bubble wrap, paper, shredded up anything to protect my polishes from busting open. I don't know what UPS does with packages, if they're actually gentle with them or just throw them around, what it one of those or more busted open. I was beyond amazed.

I immediately went to their facebook page and left them a comment: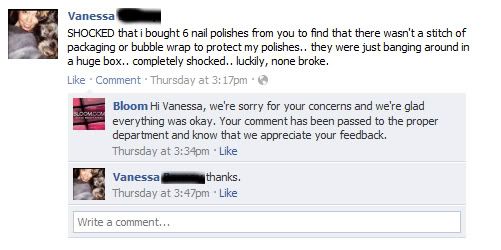 All and all, I am happy to have the polishes, I have already used 2 of them and I am in love so far. I can't wait to use them all. I most likely won't be ordering from bloom again, as I haven't heard anything back from them (and doubting I will) and just don't want to have to worry about my package making it here safely!