Happy New Year everyone, hope you were all safe. It is time to post the winners of the December giveaway. Just a recap of what is up for grabs:

For the first winner, you will receive: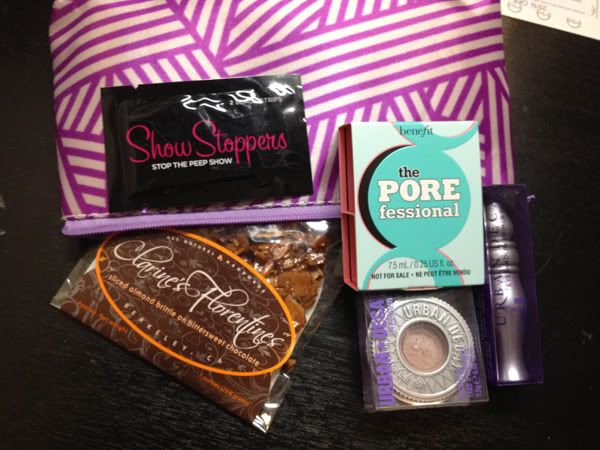 Sliced Almond Brittle on Bittersweet Chocolate - $2.00

Benefit POREfessional - $9.66

ShowStopper Designer Fashion Tape - $0.83

Mini Urban Decay Primer Potion Original - $6.66

Full Size Urban Decay Eye Shadow in Sin - $17.00
Total Prize Value: $36.15
This pack will actually come in the bag I got from MyGlam because I have a million make up bags already!
The second winner will receive: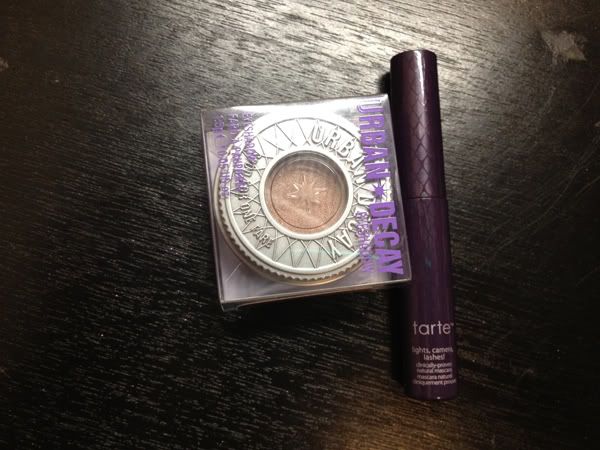 Full Size Urban Decay Eye Shadow in Sin - $17.00

Tarte Lights Camera Lashes Mascara - $7.92
Total Prize Value: $24.92
The first winner will be able to pick which prize pack they would like and the second one will get the second prize pack. If you're a winner, please email me back ASAP. Please note though, I am going into the hospital for a surgery so if you do not email me back right away, I won't be able to ship out until the following week. If I do not reply to your email, that is normal, as I will be away from my computer.
Now, onto the winner. The first winner is:
Please email me with which prize pack you would like and your address!
And the second winner is: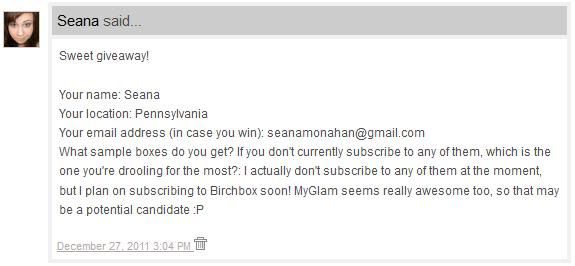 Please email me with your address.
The email address is glamourdolleyes at gmail.com.
I have already started collecting prizes for January's giveaway, since I received a box late in the month and had already put together December's, so keep a look out for that.
Thanks everyone who entered and for your support! :)