I have been a huge fan of TheBalm since I first set eyes on my favorite blush, Hot Mama. Shortly after, I tried their Balm Shelter but I had never tried their shadows. I had a palette, never used it and ended up selling it. When I saw the Nude Tude Palette, I had to get it, the packaging alone is enough to make my decision!

Before I get into the review and more specifics, let me show you some pictures: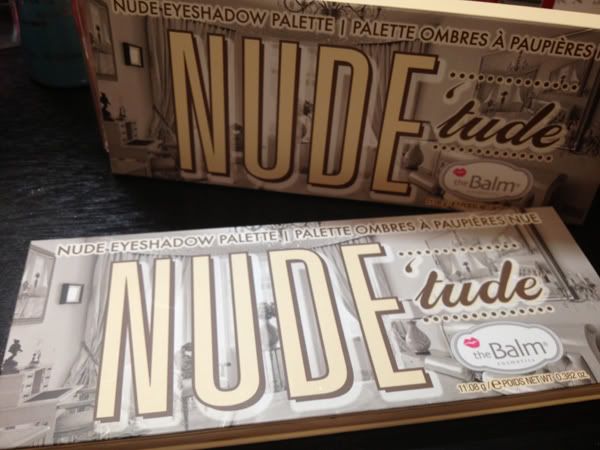 This is the "Naughty" version.




There are 2 versions of this palette, the "Naughty" and the "Nice". The naughty obviously has little "naked" girls on them with the shadows covering up the girls and the nice palette doesn't have the girls on it. I opted for the naughty version because its cute and whimsical.

And the colors: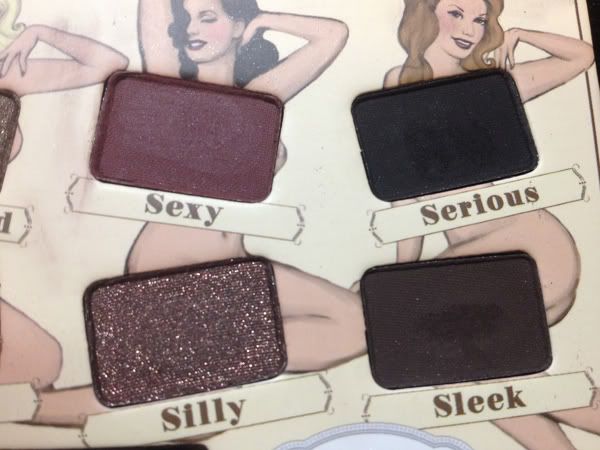 This palette comes with 12 eye shadows.

Swatches: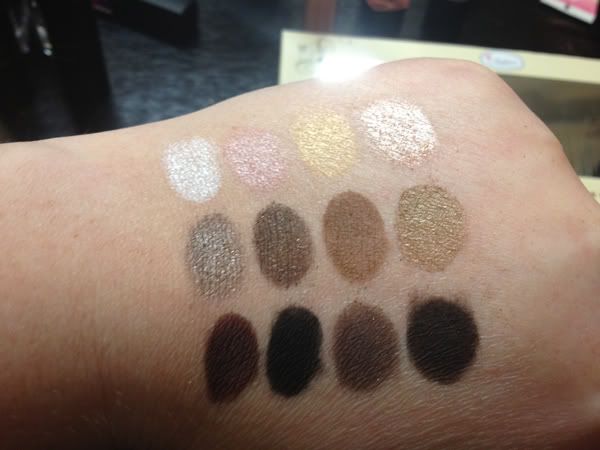 All swatches are done over Glamour Doll Eyes Control Freak Primer.

These amazing palettes consist of 12 beautiful shadows that make wearing nudes fun! These satiny smooth colors can be applied naturally "i.e. let me slip into something more comfortable" or beautifully layered. The wide range of naked neutrals gives you light highlighters as well as brazen bold shades that work to add definition and emphasis. Nude 'Tude allows you to dramatically dress up your eyes (if nothing else)!

Both versions of this palette come with the exact sample shadows, just different packaging.
The descriptions below are what I see from in the pan and swatched, not from the website.
Sassy

is a nice metallic white color. It's not too pigmented so it is a really nice highlight or an inner corner color.

Stubborn

isn't all that pigmented either. I would say this is my least favorite color but it's a rosie peach color with some slight metallic hues and just a little shimmer.

Snobby

is a nice golden color which I kind of see a silver sparkle but not too much. This one also isn't extremely pigmented but it be a nice on the lid color.


Stand-offish

is a nice light brown color. If you're familiar with the Glamour Doll line, this would be closest to

He Loves Me Not

.


Selfish

is probably one of my favorite colors. It's a bronze deepish brown with some silvery metallic hues. I typically wear this all over my lid and in the crease.


Sophisticated

is also up there with selfish for a personal favorite, just a little darker with some multi-colored shimmers.


Sultry

is a matte medium to light brown. Being as mattes are a little harder to work with, this one does seem a little on the chalkier side. Not too much but I have used it in the crease and love it.


Schitzo

is a bronzed color with a metallic finish. Love this color for the lid or outer V.


Sexy

is a burgundy brown color, more on the burgundy side and is also matte.


Serious

is a matte black. Definitely not the most pigmented black but can be layered for a darker effect.

Silly

is definitely the least favorite from this palette. When blended out, it's all shimmer. The texture is more of a glitter but the actual shadow color goes away for the most part.


Sleek

is a super dark matte brown, great for crease work if you're looking for something more subtle than brown.
Packaging (4.5/5):
The palette itself is made of a sturdy cardboard and also comes with a cardboard sleeve with the same design. I don't particularly like the fact that it has the extra sleeve, but for some reason I keep it on. The palette also has a large mirror so that if you wanted to take this with you, you can do your make up on the go. It also comes with a brush, that I don't necessarily use. The palette is closed by a strong magnet. I gave this a 4.5 instead of a 5 because I feel like the "texture" of the box allows for the colors to stain it much faster. It isn't glossy or matte, but somewhat in between.

Product (3.5/5):
Because a few of the shadows are a little "chalky" or harder to work with, I gave this palette a 3.5 instead of a 5. I think this is a lovely product but if you're a beginner, it might be a blessing or a hassle.

Longevity (5/5):
I personally don't have any problems with creasing, fading or anything but I use a primer that I am used to and use for everything. I have worn several of the colors for hours (up to 8 or 10) without a problem, but I think it really depends on your primer and lid type.
Price (5/5):
Priced at $36, this palette is a great deal. Since there are 12 shadows, that makes each shadow $3 each. Each eye shadow is about 0.032oz. A MAC eye shadow is
0.05, for $14, so you're getting a little bit less for a fraction of the price.
Overall (4.5/5):
This is a great palette, I don't find the shadows too difficult for me personally to work with and I think this would be a great substitute for the Naked Palette. I wouldn't say its comparable but it is a nice palette to have.
You can get this palette on
TheBalm
website for $36.00.