I received this Coastal Scents Beijing Palette in a deluxe box I got from GoGoGirlfriend back in December. I have always wanted to try these palettes but to be honest, I didn't want to spend the money. I have so many palettes and shadows already, it seemed frivolous. I didn't want the particular one that I got, I wanted another one but was happy none the less because this one is actually gorgeous. When I saw this in my box, I almost squealed.

All swatches are done over Glamour Doll Eyes Foil Me.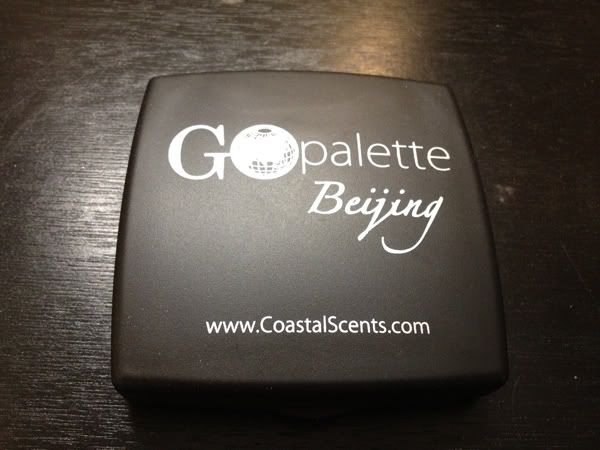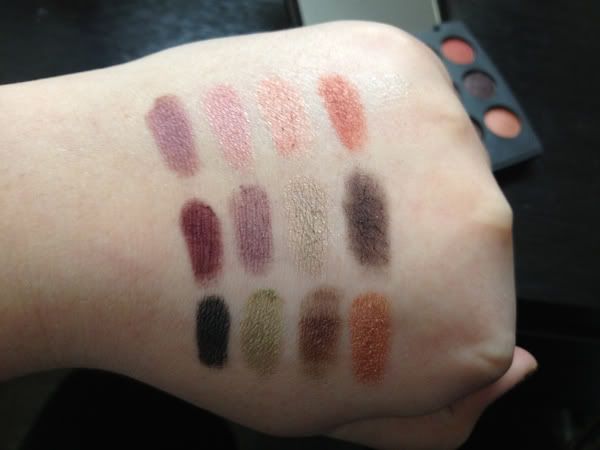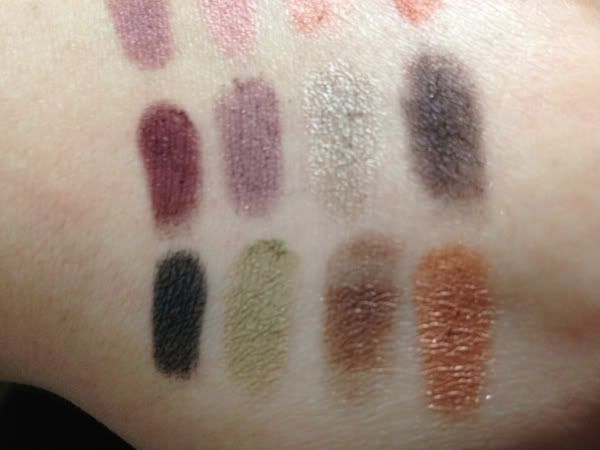 Reveal exquisite beauty with our Beijing Go Palette. Inspired by the Peking Opera in China's cultural epicenter this palette contains twelve highly pigmented shimmery shadows to create a variety of looks. Whether you wish to achieve a look for day or night this collection of brilliant reds, pinks, deep plums, and a sparkling black is ideal. All twelve shadows are housed in our matte black, Coastal Scents logo imprinted palette and equipped with a mirror for convenience.
And some specks:
Palette : 3.22" x 3.31" x 0.62" (8.2cm x 8.4cm x 1.6cm)
Mirror : 2.72" x 2.72" (6.9cm x 6.9cm)
Eye Shadow Pot Diameter : 0.62" (1.6cm)
Packaging (4.5/5)
:
Unlike the other Coastal Scents Palettes, this is very small and super easy to travel with. I don't really see traveling with a 88 shadow palette that convenient, but with this, you can just throw it in your make up bag and it won't take up a lot of space. I like that the compact is matte black, that way you won't get tons of finger prints on it and I love that it has a fairly large mirror in it. The only thing that I dislike is that it doesn't feel completely sturdy. It is a nice sturdy plastic, but I think it could be better.
Product (4/5):
I love the colors that are offered in this palette are nice and neutral but still can give a sultry sexy type look. All of the finished as "satin", whether its satin matte or satin finish but the texture and consistency are great on all of them. The pigmentation is there for a lot of them, however, I did feel that some of them have a more "subtle" pigmentation. One thing that I didn't like about the palette as a whole is that there isn't a highlight color. It would have been nice to have a nice white or beige to finish off the look without having to grab about another shadow/palette.

Longevity (5/5):
I didn't have a problem with these fading or creasing, however, as I always say, I feel like its all based on the primer you use.
Price (5/5):
You can get these palettes (there are 7 different kinds I believe) at
Coastal Scents
for $8.95 or at
GoGoGirlfriend
for $10.95 (Non Member Price) or $8.95 (Member Price), however, GGG only has the one, Beijing. $8.95 for 12 shadows is a magnificent deal, that puts them at about $0.75 each. These shadows are 1 cm smaller than a MAC shadow which will run you $14.50 (or $11.50 for pro pan) so for the size, you're getting a great deal. Please note, I am not saying that CS shadows are comparable for MAC shadows, just using the size as a reference.
Overall (4.625/5):
If the colors are pretty to you, I would say its worth picking up at least one palette. Easy to travel with and compact is always a nice thing.
Lastly, a look I did using this palette (don't mind my brows, I have been avoiding them lately). I used a lot from the bottom 2 rows: