I received this item in my December Birchbox and was rather excited to try it. I fail at top eye liner, BADLY! I never wear it and actually get a lot of comments on my youtube videos about how I should, it's just not something that I feel comfortable enough to do. I have been playing around with using black shadow as eye liner and have found that that is much easier then regular eye liner, so I hardly ever use a liquid liner.

I have received a sample of the blinc Mascara in another BB before and never tried it, even though I really wanted to. I finally broke down and tried it (and hated it, btw) because I got this sample. After that, I didn't have much hope for this liner. Lets get on with the review.

Before I get into the review and more specifics, let me show you some pictures:



This will be a little more detailed than my other reviews because I want to explain what each picture is and why I don't like this eye liner.



The opening and the stopper for this eye liner are about a mile away. This makes it very difficult to wipe off any "excess" liner if you don't want to have a mile high liner on your lid. When you do wipe it off, it sits in that mile before the stopper and is basically wasted product.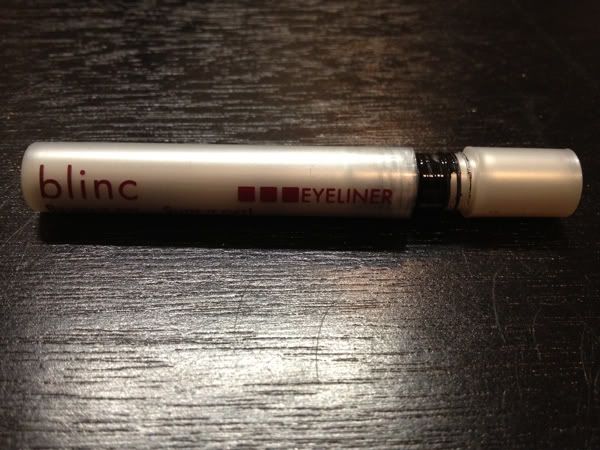 Since there is excess liner just chilling in that "canal", we will call it, the wand then gets COVERED in excess liner while its being twisted in.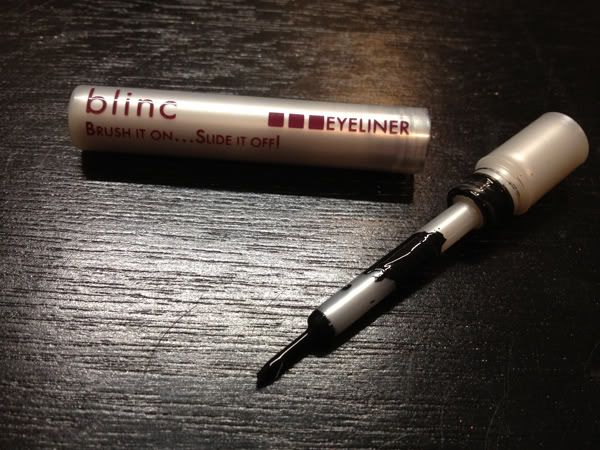 Then your wand also has extra liner on it too, which again, wastes product.



Top liner was right before I took the picture and bottom liner was about 20 minutes old. As you can tell, its very glossy.



Liner is "shinier" than I like in a liquid liner.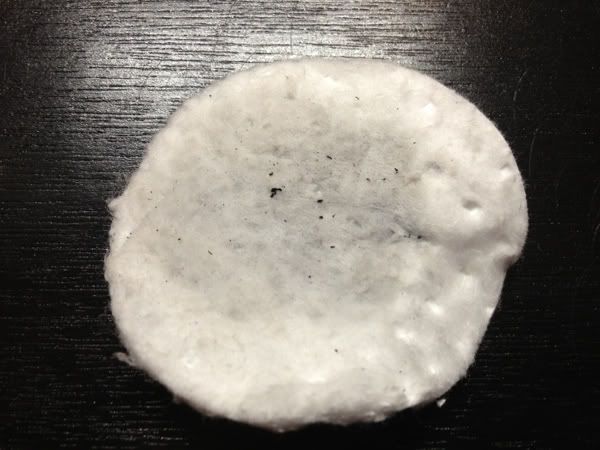 What I didn't like about the mascara was that it "crumbled" off. They said it was "tubes" but no. It crumbled and the liner was the same way. After a while, there were little black specks all over my face.

Now, I understand that this is just the packaging for the sample size and the full size is an actual normal liquid liner packaging but when you send this as a sample, it doesn't make me want to buy a full size.

Similar to their mascara, blinc's eyeliner formula lays down a single line of pigment that stays put throughout the day. Even if you don't have surgeon steady hands, this is fairly forgiving. The ultra-thin tip is versatile, and if you look closely at the point, you'll notice that the brush lies slightly off center, helping you avoid a collision with your lashes.



Packaging (1/5)
:
Terrible, as explained before. I don't like it at all.
Product (2/5):
2 at best. The product is EXTREMELY wet, which I don't like at all. It takes forever to dry. The only reason I am giving it a 2 is because it lasts for a long time and because it is fairly easy to apply. The eye liner was super glossy as well, which I don't like in an eye liner.

Longevity (4/5):
I wore mine for 4-5 hours without any problems. It was a little harder to take off, which also means it will last a long time.
Price (1/5):
The same size was
$2.29 for .02oz
, which I wouldn't
even pay for the full size. Full size is $24.00 for .21 oz. For an eye liner, that is incredibly expensive considering drug stores have much better liners for a fraction of the cost.
Overall (2/5):
Pass, go to Target and get something better for your money!
You can get this at
Birchbox
for $24.00.