I had some issues with my Foodzie box this time around, however, their customer service was incredibly helpful, so it makes up for it. I got an email on January 2nd asking me to pick the box that I would like to receive. I believe there were 3 to pick from and I picked the "Breakfast in Bed" box because I thought it was something my husband and I would both enjoy. On January 19th, I realized that my box hadn't arrived yet, nor had I gotten a a shipping confirmation (though they say they ship 5 days after you select your box).

I emailed them and they told me that my box hadn't shipped because my telephone number was wrong, which I thought was silly because I received my box last month without any problems and my telephone number has nothing to do with my address. I corrected my number and the girl then told me that the box I had already reserved was no longer available. I didn't think that was right because I already claimed it on the first day and it should have been saved for me, telephone number wrong or not.

She did a little research and was able to find me a box and that they would ship it out right away. Today (January 24th), I received my box and I am super excited!

Here is what I got in my box: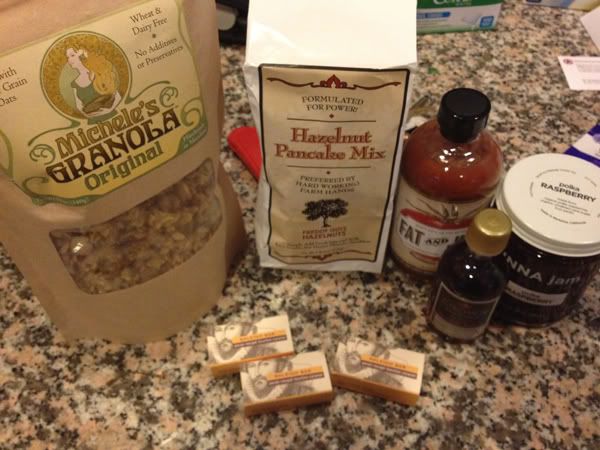 And each item, remember, these are all breakfast themed:


Xocolatl de Davíd Raleigh Bar - $9.00

Wasn't too big of a fan. This has pecans, nougat and bourbon caramel. I could really taste salt in it which I really enjoy with chocolate. I probably wouldn' buy these but it was a nice little treat. Since I got 3, I am adding one into the January Giveaway!
Crown Maple Syrup in Medium Amber - $2.54
I prefer blueberry syrup with my pancakes or french toast but it's nice to try new things. The descriptions sounds awesome: Aromas bring to mind the sights and smells of late fall and early winter. Our Medium Amber organic maple syrup has aromas of gingerbread and roasted chestnut. Flavors of rye, toffee, freshly roasted and ground coffee.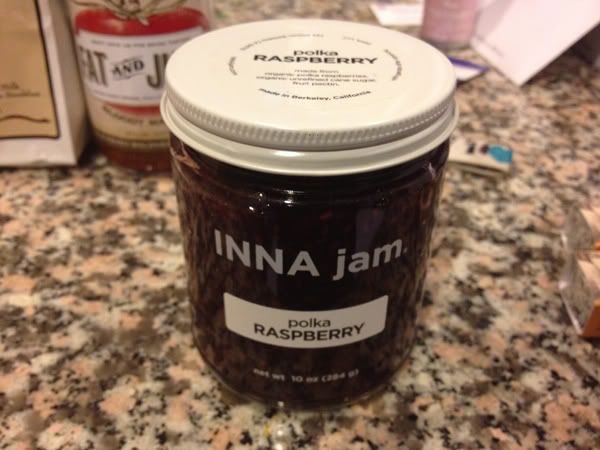 Inna Jam in Polka Raspberry - $12.00
Raspberry jam is my favorite so I can't wait to try this. I don't have a reason to eat jam too often but that's the point of these boxes, maybe I need more toast in my future! It says it has natural notes of rose and violet, which shoulds intriguing.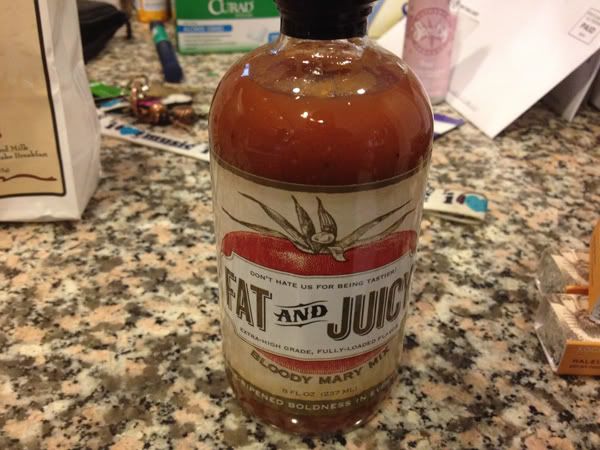 Fat & Juicy Bloody Mary Mix - $2.49
I don't drink so this is a waste for me ):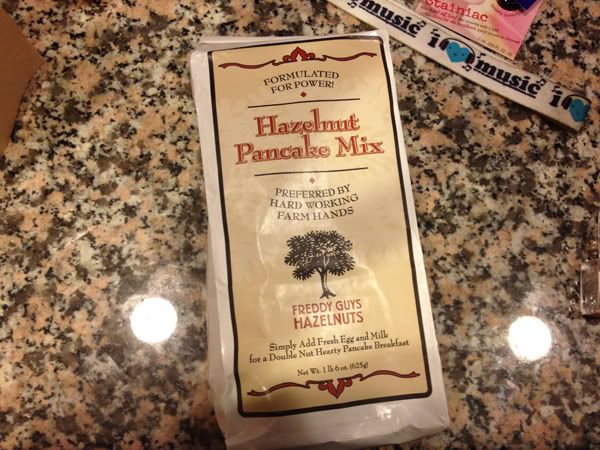 Freddy Guys Filberts Hazelnut Pancake Mix - $5.00
I am not much of a pancake fan but lately I have been eating them up. This came just in time. I wake up and make myself and my dad (who is visiting and helping me recoup after my surgery) pancakes every morning and we're both excited to try these!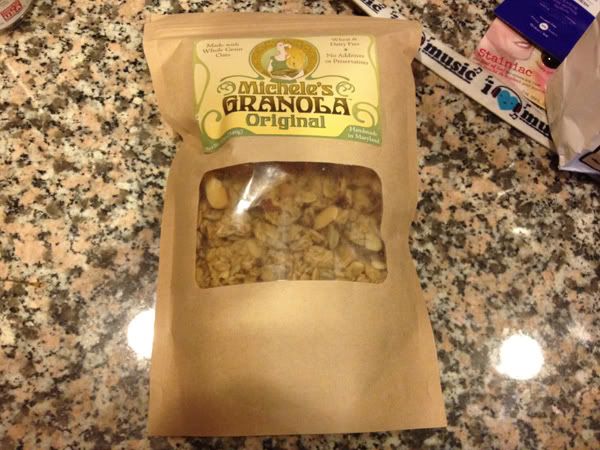 Michele's Granola - $5.99
Mmmm, I just ate a handful of this and was pleasantly surprised, it was pretty tasty!! Their website also has some yummy flavors!
The breakdown:
Box:
Foodzie
January 2012
Price:
$29.95 a month
Monetary Value:
$37.02
Keeping subscription?:
Sure!
I was surprised at how big some of the things were, although they were relatively cheap per item. As last time, the monetary value isn't as big as what you pay for but its a nice way to try a theme of items that someone else selects.
EDITED TO ADD:
I actually decided to go ahead and cancel my Foodzie subscription because I want to keep with more of a beauty theme, so you will no longer be seeing posts about Foodzie ):