There has been a ton of controversy around GoGoGirlfriend lately because of the "quality" (if you will) of the items sent in their box. They were sending a lot of E.L.F. things, which we all know run only $1 on their website as well as target. I didn't mind that, as the box was still worth more than I paid and genuinely liked the products that I was receiving. Not to mention, drug store items are super hard to shop for because no one ever has testers out. This is my 4th month/box and it seems like with every month, it gets more and more disappointing. My first box was loaded with all sorts of joy!!

GoGogirlfriend members have the opportunity to try health, beauty or home products to help in making that tough decision. Feel confident in making that purchase, because you already know that it was perfect for you!

The generous trial sizes give you an opportunity to try for a week or more - helping you to fairly evaluate in making future purchases.

GoGoGirlfriend is fairly different from your typical sample box. With GGG, you pay for a membership to their site and then you get a "free" sample box monthly or bimonthly. The boxes are usually worth more than what you pay for the "membership" but its up to you to decide if you like the products they offer or not, since most are no "name brand".
Here is what I got in my box: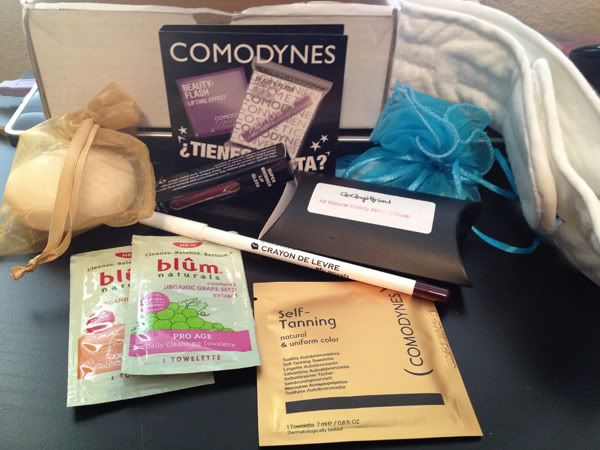 Lets go through each individual item:
Comodynes Instant Beauty Flash - $3.00
I received this item in my deluxe box and I didn't know what it was then, since its all in Spanish I am assuming and I still don't really know what it is. It says its a lifting spray and its supposed to firm and tone and help your make up stay. Since I already have one, I am keeping this for the January giveaway. I did open my other one and it wasn't so much of a spray but more of a squirt. It came out in one line, so I am not sure how that will get all over your face unless you rub it in.


Blum Naturals - Daily Cleansing & Makeup Remover Towelettes Pro Age & Daily Cleansing Towelettes with Exfoliating Microbeads - $0.74
I have tried the pro age one already and I didn't find that it did anything spectacular to my skin. It took the make up off, not as good as other towelettes and it kind of left a film on my face, ick.

Blossoms Lip Color & Shimmer with Aloe in Sunset - $8.99 (member price)
WAY too thick and it smells like a cheap fake lipstick. GROSS!!

Floating Candle (??) - $2.08 (member price)
Doesn't smell like anything? I like scented candles.

Blossoms Lip Liner Pencil in Current - $4.99 (member price)
It's a pretty color, not sure if I would use it as I don't wear many lip sticks or dark colors, but its pretty none the less.

Comodynes Self Tanning Towelette - $1.75
I got this last month in my deluxe box too and it's something I would never use. Not a self tan kinda person, keeping this for the January giveaway!
GoGogirlfriend Natural Soap Bar in Cherry Almond - $??
I have gotten this in a previous box as well (sound familiar?), although this was really nice and I enjoyed it, I would have rather gotten sometihng else. It smells FANTASTIC though!!
Renu Derma Eye Cream - $14.28
Also got this in another box and it's not something I would use. Plus $14 for this TINY sample is ridiculous. I may give it to my mom, she likes that kinda stuff. It came in an organza bag type thing that took me about 20 minutes just to figure out!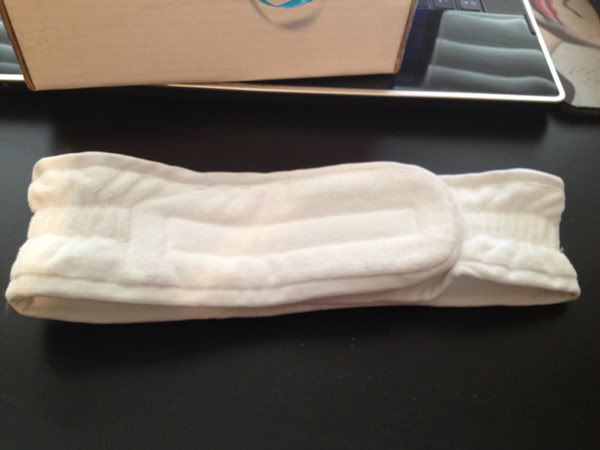 Spa Terry Cloth Adjustable Velcro Headband - $6.99 (member price)
This is cool and unfortunately, the coolest thing in this box. It will help keep my hair back when I am putting on make up.

The breakdown:
Box:
GoGoGirlfriend
December 2011
Price:
$12.99 a month or $6.99 a Month ($13.98 Billed Every 2 Months)
Monetary Value:
$42.82 (not including the soap)
Keeping subscription?:
No.
The monetary value is there but if you're getting stuff you won't use or even like, what's the point? I was so for this company in the beginning and I referred a lot of people, as did the girl who referred me but it just doesn't excite me anymore. Unfortunately, I have already been charged for January so I will be getting a box in January but after that, I will be cancelling.