Although I received a NYC Soft Matte Lip Cream in my December MyGlam bag, I already had 3 that I purchased myself. I have talked about these before on my youtube channel but also wanted to go into a full review here!

Before I get into the review and more specifics, let me show you some pictures: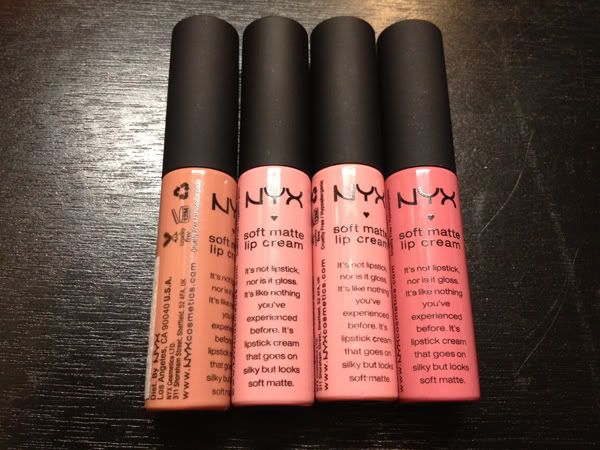 Swatched in same order as above picture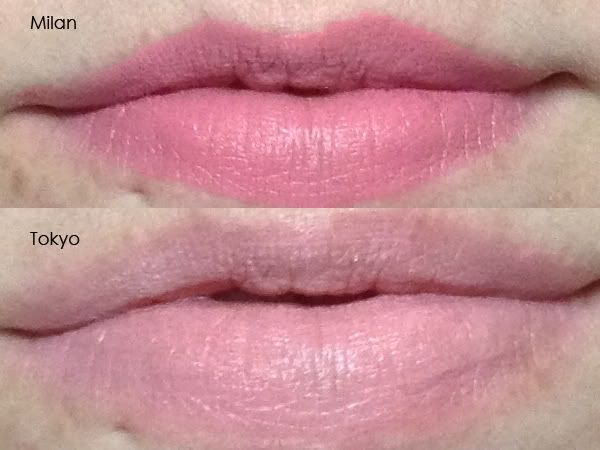 Neither lipstick nor lip gloss—this is matte lip cream. A new kind of pout paint that goes on silky smooth and sets to a matte finish. Soft Matte Lip Cream is surprisingly durable and, unlike some matte lipstick formulas, also moisturizing. Available in 11 lip colors.

Packaging (5/5)
:
Packaging is very sleek, small and easy to carry. The lid is matte black and the color of the tube is the actual color of the lip cream. It has a typical doe foot applicator and I love the little <3 touch that NYX puts on their items. It's about the same height of a MAC lipglass but the NYX one is a little thicker.
Product (4.5/5):
I LOVE these lip creams. The only problem I have with them is that they settle into lines. This can be fixed by making sure your lips are exfoliated before applying them but this also goes along with all matte products. I typically put on a nice lip balm before I wear these as well. The formulation is excellent, allowing the product to be extremely pigmented but not being overly chunky. The cream is just that, a cream, almost whipped. Very smooth and VERY light!

Longevity (4/5):
I find that after a few hours (probably 4-5) they start to wear off a little but nothing major.
Price (5/5):
At only $6.00 a piece for 0.23oz, the price for these are awesome. Compared to a MAC lipglass which is $14.50 for
0.17oz
. There are only 11 shades so you can collect them all gradually without breaking the bank.
Overall (4.62/5):
I have and will continue to recommend these to anyone who wants to try one. You can typically get these for cheaper at
Cherry Culture
and even cheaper when they have a sale so I would say pick one up. If you're not a matte fan, then I would say pass.
You can get this at
NYX Cosmetics
for $6.00.